---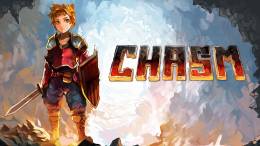 Chasm is an upcoming action-adventure platformer that takes inspiration from hack 'n slash dungeon crawlers and Metroidvanian classics to emulate the depths below a remote mountain town. Players are dropped into the procedurally-generated fantasy world of Guildean Kingdom where exploration is key, and little is protecting you from the abundant secrets that await. Taking on the role of a newly recruited knight, you find that you are about to embark on your first mission, and have little direction to go by. Nonetheless, thrilled to prove your worth, you must track bizarre rumors regarding a mine that is vital to the Kingdom, and return with information proving why it has been shut down. In making the trek through the mining town, players discover an environmental much worse than what they were prepared for. It is evident that the townspeople have all began to disappear, and have been kidnapped by nefarious supernatural entities that have emerged from the unknown depths. As the story begins to unravel, a new objective is formed: solve the mystery, and restore peace to the Kingdom. Bound with knightly honor, players embark on a treacherous adventure, where deadly battles against agile creatures and the possibility of death without retribution inflict the sensation of an impending doom. While there is powerful equipment scattered throughout the world, the ancient castles and catacombs that house these supernatural horrors must be scoured with precision over brute force.
While Chasm's overall plot plays out the same for every player, every hero's journey is entirely unique. Each of the rooms encountered has been hand-designed, and without much indication given to the player, are stitched together forming a world map that is one-of-a-kind, and completely your own. There are six massive procedurally-assembled areas that can be explored in this manner, with bosses, mini-bosses, and enemies scattered throughout. With heavy inspiration stemming from Metroid, Diablo, The Legend of Zelda, and Castlevania: Symphony of the Night, Chasm offers a challenging retro feel that can be sensed in the gameplay, and seen through the pixel art present throughout. At first glance, the bosses in Chasm are massive and brooding, and can send players into a panicked frenzy regarding whether or not they have accessed an area that is far beyond their skill level. Though, players can rest assured that all areas that require a certain skill cap are inaccessible until certain abilities have been discovered. Chasm takes on action-role-playing elements and allows players the autonomy to customize their character through equipping armor, spells, and weapons. The world is riddled with platforming hazards and deceitful traps, so a meticulous approach to upcoming dangers is pivotal for survival. Currently, players will be able to choose between tackling the Normal difficulty mode or attempting Hardcore, which is scored with permadeath features. Leaderboards will be present for Hardcore playthroughs and will feature categories regarding least damage taken, quickest time, and some other unannounced, seemingly sadistic brackets.
Having started production in 2013 following their successful Kickstarter campaign, Chasm was originally set to release sometime the year following. Although this goal could not be met, it's exciting that a rough release date has recently been announced. The developers over at Bit Kid, Inc. have stated that the final version of the game will be available this coming summer. Intrigued players have been able to download the Chasm demo for Windows, Mac OS X, and Linux for almost five years, with no changes being player tested since. As their production began to grow, and more platforms were being confirmed for Chasm, the long delay was the consequence needed to take for a more widespread approach. In the first new trailer since their initial Kickstarter teaser, all the time invested into Chasm is visually evident through the pixel art animation, soundtrack, and level design. All spawn system changes, enemy sound effects, and placeholder animations have also been completed. The only steps left to go before release derive of polishing the sound effects for the unknown final boss, fleshing out the non-player characters, refining side quests, and beefing up the items. With a release seemingly around the corner, those interested can expect Chasm on Steam for Windows, Mac OS X, and Linux. Those who prefer playing on console can also snag it for PlayStation 4 and Vita.