---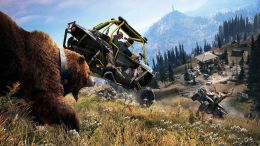 Far Cry 5 is easily one of the biggest and best game to ever come out of Ubisoft. The time and effort that went into making this game was well spent, and many have noticed. Not the least of which proof wise is that the title is the fastest-selling Far Cry game in history, and has been at the top or near the top of the NPD charts since it arrived in late March. And now, Ubisoft is going to allow you to go even more in-depth with the title via a new Photo Mode that's been released as a free update.
It may be self-explanatory, but the gist of Photo Mode is that you'll be able to take a look at the world through the eyes of a photographer instead of a game character. What's more, like other photo modes, you'll be able to adjust and modify parts of the world so that you can get the shots you want, when you want.
As noted on the Ubisoft Blog, you'll be able to have much control over Hope County, including having the ability to turn things from night to day, or vice versa, adjusting how far the field of view goes on your camera, and you'll even be able to adjust what the people look like in terms of outfits and expressions. Add to that, you can try out a bunch of different frames or filters to truly get exactly the shot you want. Once you're done, you can upload your pics and share them with the rest of the world.
While Photo Modes are nothing new, there was one in the God of War title that came out on PS4 recently, there's something special about Far Cry 5 that makes it more reasonable to enjoy there. Mainly, Ubisoft spent a long time trying to perfect the "world" of Hope Country to look like real-life Montana. They even took multiple trips to there and took pictures of the various forests, lakes, rivers, etc. and then brought them back to their development studio in order to make sure that it felt like the real thing.
So, with the Far Cry 5 Photo Mode, you can actually pretend to be a photographer of nature, and take beautiful shots of whatever you want. If you want to try and catch the natural wildlife of the world, go ahead. Or, if you want to try and create your "perfect shot", you have the freedom to do so. It's easy to use so that everyone can enjoy it no matter their level of experience.
But, if you'd rather have fun and make some of the funniest pictures ever with the characters and wildlife of the game, you have that potential too. In fact, the Photo Mode will not only work in the main game but also, all the DLC packs that are coming or have come out. So if you have the game and want to branch out of what you have been doing, the Photo Mode is available to you now for free.