---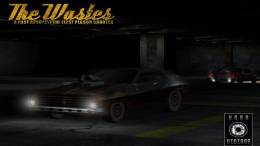 The Wastes is a recently released fast-paced first-person shooter that is set in a distant wasteland. As a small population begins to form in these lands that were vacant for over ten years, fighting for survival in a world dictated by violence, action, and vehicles is the only means of reprisal. Players are thrust into a world that was once quiet, where only the sounds of desert wind and raindrops could cut the silence. After hearing the sound of an engine rumbling in the distance, it's clear that signs of other life is beginning to cultivate. The Wastes has been a project that was three years in the making and began as a mod for the GoldSrc engine. Returning as a fully realized story, the game now utilizes id Tech 3 technology and offers a nostalgic aesthetic not dissimilar to the Source engine. Built on the premise of demonstrating a love for classic movies and video games, the developers over at Vera Visions want player fascination to manifest in the same way it might have if they first experienced this game fifteen years ago.
The gameplay featured in The Wastes derives of a quick, single or multiplayer frag-fests filled with various game modes and mutators. Players can currently choose from four different modes, with more coming at an unspecified date. Anarchy consists of a no-holds-barred free-for-all filled to the brim with mayhem. Players will be able to choose their loadout and jump into the arena at any point without needing to wait for a new match. There are evidently no game restrictions and proves to be the most ruthless mode of all. The game's non-stop violence does not halt at gory kills and prides itself on various dismemberment features. Each player has nineteen different hit-locations, meaning you can be precise in your slayings, and cut individual limbs off of your opponents. And yes, each player contains a unique high-pitched scream that can puncture eardrums if they are shot in the crotch. Team Chaos consists of an arena in which wiping out the enemy team is the prime objective. Destroying what is left of your opponents during this round-based mode will grant players the win, and is most welcoming for those interested in team-based multiplayer. Capture the Flag is a classic attack and defend mode that takes the difficulty of the multiplayer up a notch, and is imperative for those who want a challenge. Vehicular Carnage depicts the mode where the cars come into play, as users can hop into the seat of a custom-made vehicle and participate in a derby paired with hood-mounted guns. Transportation will be the key to survival in the long haul, so experimenting with vehicles in this arena could serve players wonders.
Players have the autonomy to choose between fifteen different character classes that each contain various specifications. You can elect to play as a mechanic to further amplify your vehicle skills, a nomad who's obsessed with fire, or a discharged USMC raider, among various other choices. Each character is uniquely savage in their own right and can form to varying playstyles. The weaponry configuration is equally as diverse, and features over thirty different styles. Players can opt to fight for survival with exotic melee weapons, such as sledgehammers and throwing knives, or tackle a safer approach with handguns or firearm prototypes. Special weapons will be scattered throughout the wasteland for players to stumble upon in the multiplayer levels, alongside ammunition, and a couple specialty items. Handguns can have mixed-akimbo configurations, and loadouts can be tailored to fit any specific playstyle. The manner in which players actually move can be manipulated and customized through the game's playstyle system. Physics, controls, and weapon behaviors can all be altered to maximize player strengths, and acquire a specific feel. This means agility can be fine-tuned, and aspects such as the amount of damage that can be dealt to a player through a melee weapon can be specified. Model skins, heads-up displayers, spray logos, and color schemes will also be featured within the customization options to get your character exactly how you want them. The Wastes is currently available on Steam for Windows and Linux, with a 25% off special promotion that will be available for the next week.