---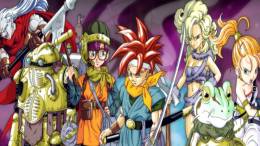 Chrono Trigger has had a passionate following of fans ever since it released to the Super Nintendo Entertainment System back in 1995. It's been praised and heralded as one of the best role-playing games of all time, so needless to say when Square Enix put out the game out on Steam for PC players back in February, the excitement could be felt everywhere. That excitement quickly diminished soon after the release, as players discovered to their dismay that the graphics and UI had been re-worked and no longer looked as good as the original, nor as similar to it. Square Enix quickly came under fire with complaints and criticisms for the faulty port, and so, they promised fans that they would be updating the game. Not just that, they were also quick to mention that the game would be supported by a multitude of updates going forward, rather than just one. The first of these sets of updates is now live, and fans couldn't be happier.
The bulk of this update tackles what most players were upset about: the graphics. As soon as you start the game (with an improved title screen no less), you'll be presented with a choice between the two graphical styles: High Resolution and Original. Naturally, the high-resolution style keeps the graphics as they were, for those who prefer it. Original, as shown in the screenshots, gets the game looking way closer to the original SNES version once again. As mentioned, the UI was a problematic point for players as well, with the prior version being a clunky mobile layout. This update has improved upon a lot of that, with the font being changed to a closer style to the original, and the battle screen looking way less crowded and more clean, among some other more minor visual tweaks.
There still remain some problems with the UI, namely the look and feel of it being still quite similar to the mobile port of Chrono Trigger. In the patch notes posted by Square Enix themselves, they stated that the future updates coming to the game will be focusing a lot on this, in an effort to optimize the port better for players using keyboard/mouse and controllers. Additionally, there will be an option that lets players select between UI better suited for controller/keyboard, and UI better suited for mouse/tablets, so players will have enough options to suit their needs for the best-optimized experience.
It's currently unknown what other things the planned updates might improve upon aside from the UI, but it's a solid start with this first update and makes the game truly playable for those who refused to play it before. This isn't Square Enix's first experience with poorly received PC ports of their famous RPGs, as Final Fantasy V and VI were hit with similar criticism as well for their re-worked graphics. With the changes coming to Chrono Trigger on Steam, maybe we'll see changes to those too, eventually. Whatever the case may be, you can get your hands on Chrono Trigger in all sorts of ways since the game has been ported to numerous platforms, including PlayStation Network, iOS, Android, Nintendo DS, and Virtual Console. Square Enix didn't provide any release date details for the forthcoming updates, so keep an eye out for when those drop. You can view the full detailed patch notes for the first patch on Steam.