---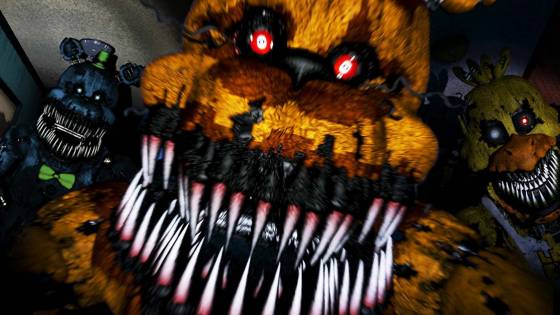 The super popular horror series Five Nights at Freddy's is still trucking along, and very well at that. After the release of its latest game, creator Scott Cawthon has been incredibly busy with multiple projects in the works. Thankfully, he took to Steam just the other day to make a huge overview post of everything in the works for the near future and beyond. The biggest highlights are these: The series will be getting console ports, the movie has been delayed, and there's a new "AAA"-level game in development. A lot to take in, but Cawthon goes into detail behind each and every one of these. This marks the first time we've really heard anymore big news from FNAF since the launch of Ultimate Custom Night this past summer, a spinoff title that compiles over 50 of the series' terrifying animatronics for one devilishly challenging good time.
First up! The console ports. According to Cawthon, these are about 20% complete in total for the time being. He's working with studio Clickteam to make these ports a reality, and once they see the light of day, they'll be playable on Nintendo Switch, Xbox One, PlayStation 4, and Android/iOS devices. These ports will be HD in nature, but sadly, Cawthon didn't specify which games would be receiving the treatment. Presumably, it will be most of the older games. Alongside this is the aforementioned AAA game, a very intriguing point considering Scott's status as an indie developer. The AAA game has a whopping 0% completed mark by it. "There is a BIG deal in the works to create an incredible big-budget game!" Scott said in the post. "I can't reveal any details yet as this project is still in the planning stages, but I'm working closely with the studio involved to ensure that it delivers what (I think) FNAF fans will want to see!" Whatever the case may be for this project, that's pretty big news for the series.
The projects don't stop there, though! Cawthon's most completed project so far is a FNAF VR game (which is likely as terrifying as it sounds), marking in at 40% complete. The company behind it is called Steel Wool, and apparently the game features a repair section where you repair the animatronics up-close and personal ala Sister Location. Cawthon didn't specify what VR devices it will be heading to, so that remains to be seen. Lastly, as far as the games go, Scott has been working on both an AR game and a free game for the fanbase. The AR game is 10% complete, while the free game is more of an idea at this point than anything else. The free game goes by the title of FNAF: Into Madness. "This is the next game that I want to work on myself someday, a compilation of several previous gameplay ideas in the same vein as Update 2; just a free game for the fanbase," Cawthon stated. "There isn't a guarantee that it will happen though; I'm still recovering from the first four years! :)"
Cawthon revealed that the recently confirmed FNAF movie, directed by Chris Columbus, has hit a setback. While the movie didn't have any definite dates, it's been delayed further due to Cawthon tossing his original script in an effort to re-write something better. This is to ensure the movie is something fans will actually want to see. According to him, its story takes place in "the universe of FNAF 1-3 only", and those games will get the brunt of the focus. All in all, it's a lot to look forward to if you're a FNAF fan! The series is truly staggering at this point, with a grand total of six main games and two spinoff games. All of these are available on Windows PC, as well as Android/iOS devices, for varying prices. Certain titles, like Ultimate Custom Night, are completely free, while others cost but still remain cheap to buy and play. For the full overview of FNAF updates, do make sure to check out Scott Cawthon's Steam post. There's a ton to dig into, including fan reactions and questions just below that.