---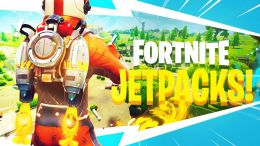 One of the things that players really love about Fortnite is that Epic Games really feels the need to give players as much free content as possible as soon as it can be done. They've added new modes, new weapons, seasonal content, and more, and it just keeps growing. This is one of the reasons why Fortnite is dominating the Battle Royale market. But now, they've added an item so epic, so cool, and so fan-asked, that it will change the game every time it comes into play. For Epic Games has now added Jetpacks to Fortnite. Yep, this is going to be good.
To be clear, these are not a permanent item, rather, they're a limited time thing, so you best enjoy them while you can. However, getting them isn't so concrete, for these are part of a new type of item called Backpacks. Backpacks take up an item slot and can be moved around the person. As such, they cannot be purchased, they can only be found in games, which won't always be easy, because Epic Games put Jetpacks under the Legendary rarity and can only be found inside of treasure chests. So be mindful of that as you go into matches.
However, when you do get them, you'll find yourself with a lot of mobility, as well as a lot of potential. In the past, Fortnite players have had to get pretty creative to fly while inside the main game, including riding on rockets in order to get to one place or another really quickly. However, with Jetpacks, you can cross terrain a lot easier.
To activate them, all you have to do is jump and then press the jump button again in midair. Once you do, you'll be flying, and be able to go high, low, evade, or do whatever you want to do in the Jetpack. However, there is a battery limit of sorts. Meaning, you can only hover in the air for a limited amount of time. After it's done, you'll need to land. But, when you do, the Jetpack will recharge, it won't be a one-time use thing, which again opens up a lot of opportunities for players.
That being said, there are dangers to using the Jetpack. First of all, when you use it, you won't be able to aim very well with your weapons, which makes sense give how Jetpacks work. Furthermore, if you run out of fuel while too high in the air, you'll plummet to the ground and die.
Other than Jetpacks, Patch 4.2 brings a special new mode called "Close Encounters", this will outfit you with shotguns and Jetpacks to have fun with, and all weapon drops in the mode are Legendary drops.
Also, in Save The World mode, you can now play as Archaeolo-Jess, a brand new hero. She was just made available in Fortnite.
With these new modes and weapons and features, Fortnite is going to be very popular for the next little while. And when Jetpacks are gone, no doubt players will beg for them to come back soon. You can check out the patch notes on Fortnite's website.