---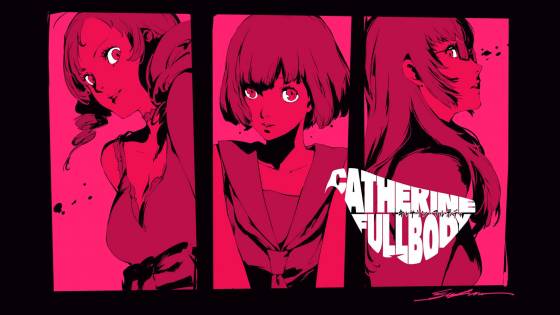 Catherine is one of those weird games that sound strange to an outsider but is a delight to play and experience. Because of this, it's not a game everyone has heard of or tried. Thankfully, it's making its way to modern day platforms in the form of a re-release called Catherine: Full Body, which has been announced since late last year. Developer Atlus recently put out a whole lot of new details for the re-release (and a trailer), the info behind which has been translated via Gematsu. This was to commemorate the official release date being announced for Japan, which just so happens to be Valentine's Day. Sadly there's no release date for the West just yet, but this news means we may be hearing one soon, especially with Tokyo Game Show right around the corner.
Originally releasing back in 2011 for both the PS3 and Xbox 360, Catherine is a bizarre mixture of puzzle games, horror genre, and the Persona series, which Atlus also developed. The game follows the story of 32-year-old Vincent Brooks, a man who ends up cheating on his significant other with a mysterious woman named Catherine, though he has no memory of doing so. The story has many mysteries throughout it, as Vincent and other men end up in shared nightmares every night, taking on the appearance of sheep. During these segments of the game, players must push and pull blocks on a vertical tower to climb up to the top before it gets destroyed. When awake and in the real world, the game's Persona-esque social elements really come out to play, giving you control of Vincent at the bar he hangs out at every night. This is the other half of the gameplay, where you'll talk to your friends and other customers, play games, text Vincent's girlfriend and the mysterious Catherine, etc.
I've taken care in calling Full Body a re-release, rather than a remaster. That's because while the game's performance and graphics largely remain the same as they were, Full Body instead is treating fans to huge amounts of additional content that wasn't in the base game. As far as what was already known, the new version sees the addition of a third girl into the mix: Qatherine (also called Rin). All three C/K/Qatherines can be pursued, and they all have multiple endings, just like before. New anime and in-game cutscenes have been added for all three characters as well. Gameplay has been tweaked to add support features to the puzzle sections, which some have complained over the years were too difficult. These features range from retrying from the spot of a game over to skipping a puzzle entirely if you just want to get to the social elements. Online multiplayer will be a thing this time, alongside the original local multiplayer. Most interestingly, the game will be getting a Persona 5-themed DLC, which lets players play as Joker in the Babel and Colosseum modes. All the while, the rest of P5's Phantom Thieves commentate while you climb.
Catherine: Full Body is slated for a February 14th, 2019 release date in Japan. Once out, both in Japan and the West, it will be available on PlayStation 4 and PS Vita. Japan is receiving a goodie-filled special edition of the game, so currently it's unknown if the West will also receive it alongside the Persona 5 DLC, though the latter is more likely. All in all, though, Catherine: Full Body is looking to be the definitive version of an already amazing game, both for new players and fans of the original. For the full details behind Atlus's announcement, check out Gematsu's translation, as well as the Japanese trailer. For the most recent English trailer, which debuted at E3 this past year, you can view that just below here! Keep an eye out during Tokyo Game Show, as Atlus also revealed they'll have an "unlikely collaboration" to announce there.
I loved the PS3 version of Catherine. I will be purchasing this game, especially since it has more content, such as the new pink-haired girl. However, it will probably contain more nudity- hence the words "Fully Body" in the new title. Although I'm not too interested in that aspect of it, I know I will definitely enjoy the game as I did before.
This is a well-written article, by the way! I'm glad someone here in GameMite wrote about this game.