---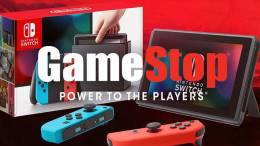 When you look at the Nintendo Switch in 2017 and compare it to 2018, there are some very clear differences that cannot be ignored. First off, the system launched to great success in March of last year, helped along with the long-awaited arrival of Legend of Zelda: Breath of the Wild. Within the rest of 2017, we got Mario Kart 8 Deluxe, ARMS, Splatoon 2, Mario + Rabbids Kingdom Battle, Pokken Tournament DX, Fire Emblem Warriors, Super Mario Odyssey, Xenoblade Chronicles 2, and more. Many of these games were known in the early parts of 2017. But here, now, in 2018, there aren't many confirmed new games coming, and some gamers are worried. But one company that isn't is GameStop.
GameStop had a financial call recently, where they revealed that sales of hardware and software were up because of the dominance of the Nintendo Switch. Yet, with the uncertainty of titles coming after June (where the last truly new 1st party title is arriving via Mario Tennis: Aces), investors are wondering if the Switch will deliver again. CEO Michael Mauler seems very confident that the success of the Switch will indeed continue on.
"I think this year when we look at the slate of titles, many of which haven't been announced yet, this year looks also very, very strong. So I think, at least, for 2018, we'll continue to see the strong software slate drive additional installed base on the hardware and increase attach rate. We don't have really visibility for 2019 yet, but for 2018 it should play out that way."
It's possible that GameStop knows some titles that will be announced soon, or, like other gamers, they're expecting Nintendo to drop some major reveals at the upcoming E3 2018. Either way, their confidence doesn't seem shaken in the slightest, and that is to be commended.
Now, we do know one major title that is coming out in 2018 after June, and that's Super Smash Bros For Switch. However, despite the teaser trailer, and the fact that it'll have its own Invitational tournament at E3 2018, many are skeptical that it will arrive this year given the series history of being delayed. But, until that delay comes, it's still slated for this year.
When it comes to the 1st party titles, there's a lot of rumors and speculation as to what is coming. We know that a Pokemon title is coming to Switch, we know that Metroid Prime 4 is coming to Switch, there's rumors of a brand new Donkey Kong title coming to Switch, but whether they come out in 2018 is up in the air, or is very unlikely. And while Nintendo still has a wealth of other franchises they can bring to the surface like Star Fox, F-Zero, Golden Sun, Pikmin and more, it remains to be seen whether they'll be announced for this year.
Either way though, all eyes are on Nintendo for their next big announcement, and all future announcements will no doubt help or hinder how well the Switch does in 2018.