---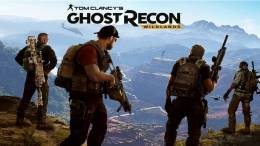 Tom Clancy's Ghost Recon Wildlands hit its year anniversary last month on March 7th, marking a year of co-op shenanigans and fun missions for everyone. The game has been quite popular for its co-op especially, despite having a single player. Ubisoft has previously discussed their plans to support the game going forward and added all sorts of updates over the course of the first year that expanded upon the title. Just recently, they put out an extensive post detailing all the content coming this year to Wildlands. The content is simply being dubbed "Year 2", and there's quite a lot to expect here, with a plethora of expansions, updates, and new features all being a part of the mix.
The main gist of the plan for Ubisoft is to release four major updates over the course of this year. These updates will be known as "Special Operations", and they'll all be free of charge, with the first launching here in just a week. These updates aren't called major for nothing either, as they'll be adding large amounts of content to the game, and even new game modes. The first Special Operations will be expanding on the campaign by adding a new mission and challenge for bonus goodies. The biggest highlight of the first one though is the inclusion of a new PvP mode. Previously, Wildlands has had the Ghost War PvP mode for players to enjoy, but now they'll also be able to choose between that and a mode called Sabotage. Sabotage is a similar kind of set up to other multiplayer capture-the-objective modes, where one team holds an objective and the other team has to stop them. There will be a grand total of 5 new maps to support this mode, along with a new class and perks, really fleshing out the game in a big way.
The details for the other three Special Operations updates aren't known yet, but with all the stuff coming in the first one, that will more than hold us over until we find out the rest. For those eager to get more out of all of these updates, players can also opt to spend $29.99 for a Year 2 pass, which will grant you early access for seven days to new Ghost War classes and customization options/crates. Naturally, the Special Operations updates will remain free alongside this.
With all of this in mind, Year 2 for Ghost Recon Wildlands is shaping up to be a busy one, just like its first year, and we wouldn't have it any other way. You can expect the first Special Operations update to hit on April 10th, and the dates for the other three will probably be revealed at some point in the near future, at least for the second update. You can play Wildlands on Windows PC, PlayStation 4, and Xbox One. Make sure to check out the Year 2 announcement trailer below to get an in-depth look at everything just discussed!