---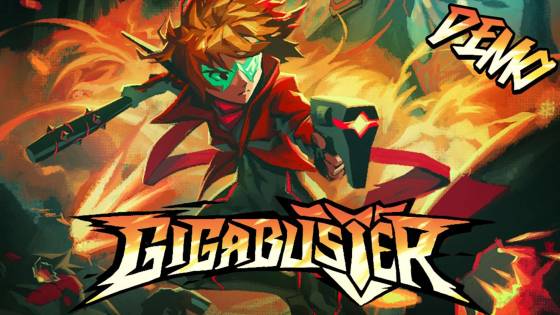 Fast-paced action-platformers are in short supply outside of retro games. The Mega Man franchise revolutionized the sub-genre 30 years ago but hasn't been featured much on home computing devices over the years. The original PC incarnations of the series were the stuff of legend because of how terrible they were, and it wasn't until retro collections came out that PC gamers could enjoy them beyond fan games. Sadly, Linux players haven't been able to play a game like Mega Man yet - until now. Gigabuster offers up a bit of a Mega Man-style game with a unique premise.
Gigabuster gives you not only a long-range buster attack to use, but also a short-range sword - with a path of attack very much like that of Strider Hiryu's legendary blade. Like Mega Man, you have screen-based stages and massive boss battles that test your skills. This is an incredibly fast-paced game too, with enemies coming at you regularly, but you have more traversal options here than in any Mega Man game. In a sense, the game is a blend of Mega Man and Jet Set Radio with its grinding mechanics. Very few platformers have actually used rail grinds, but they work as a way to boost the pace of a game quickly – and it works like a charm here.
Those who prefer a more deliberate pace will still be happy though, as the game does have both a classic and new movement setup. If you want, you can still traverse with a regular run through the stage - but those seeking more action can enjoy fast dashing, dash jumps, wall-jumping, and use things like a grappling hook, fence grabs, and ceiling grabs to move around. The addition of parkour elements to the core mechanics of a platformer definitely modernizes things. The grind rail portion of things feels like an early '00s mechanics brought into a different genre, while all the parkour stuff is fairly new for gaming outside of 3D action-adventure games.
The game's plot is pretty cool too, as you have nine areas to explore and like MM games, they're broken up into different paths. Each of the nine stages are broken up into sets of three that you can go at in any order - and there's a hub world that puts all of them together and offers up a sense of a greater world. There's a shop available to buy things like armor upgrades and even gimmicky items like scarves and neckties. You can even change up your weapon if you like and swap out a sword for things like a baseball bat.
Gigabuster is set for a release in March of 2019 if it reaches its funding goal. The devs are aiming for $20,000 and doing so will enable them to release it on multiple OSes. A Linux, Mac, and Windows version will come out - but it can't be ported easily to the Switch. This is due to it being made with Construct 2 - so it will require more effort to port, and they will port it if they reach $50,000. A free demo is available via Gamejolt – and it only supports a keyboard, but the full game should support a controller as well.