---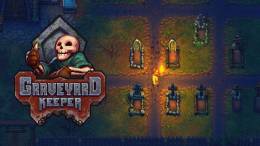 The developer of the Indie game Punch Club, Lazy Bear Games, has recently been working on a new game called Graveyard Keeper. Lazy Bear Games has not set an exact release date and is a long way from nearing completion. Graveyard Keeper has pixel graphics similar to StarDew Valley with a little bit of an Action/Adventure RPG dungeon crawling aspect as well as some farming. Having been branded as "The most inaccurate medieval cemetery management sim of all time" by Steam, this game has you taking the role of a cemetery caretaker. Graveyard Keeper's publisher tinyBuild Games has recently uploaded a gameplay reveal trailer with 5 minutes of gameplay.
In the game, you play as a caretaker of a cemetery in a small town. While your job is to take care of the cemetery and see to the burial of deceased townspeople, your main goal is to make a living and help expand your town. You can find many ways to build up your graveyard business. You can plan on where to construct many useful tools and items and even picking where to put the newest burial plot for the recently deceased. Other than just lugging around bodies to bury, you can perform autopsies on them that lets you harvest different types of materials for many different uses. In Graveyard Keeper you can craft weapons and armor and other useful items. You can also get paid to do odd jobs for villagers, explore dungeons for treasures, trade with townspeople, and fix up and expand your cemetery. You can even collect crops from neighboring farmers after you have asked them to grow them with seeds you have provided.
Trading with townspeople or buying and selling items to them will help them become richer as well. You can befriend up to six key characters that can stop by your cemetery once a week to offer their services, allowing you to expand the town as they become richer from your dealings. The town can also flourish by the number of tourists from nearby cities that come to visit and buy stuff from the villagers on their way to the town's church. Depending on how popular your church and graveyard are, means more traffic for the town's business'. You can increase profits even more by giving a sermon in the church to make it more popular and bring more people into town.
Graveyard Keeper is set to release sometime later in 2018 with no exact date at the moment. It will be releasing for PC, Linux, and Xbox One. You can sign up on their website at the moment for a chance at being picked to play their Alpha version of the game. Stay tuned for any updates to come for the game.