---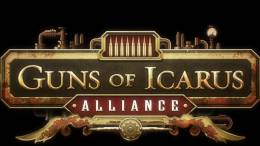 Muse Games has revealed that the upcoming steampunk airship battle game Guns Of Icarus Alliance is going to be coming to PS4. The game is set to release on May 1st, and you can actually pre-order the game right now to get 25% off of the cost. If you do, you'll get several special bonuses, including a figurehead for your ship, as well as a special costume set. It should be noted that these items will only be available for the PS4 version of the game if you pre-order it.
As for what Guns Of Icarus Alliance is, as noted, it's an airship battle game, but that is literally only scratching the surface of it. In this world, there are six factions vying for power. The world has been decimated by machines, and now your airships are all you have to try and make something of yourselves. The game prides itself on its massive scale of battles, which can have up to 32 players playing at one time. The trick though is that the players won't all be controlling their own ship. Instead, they're part of a crew to help run a single ship. With 4 people helping run one ship.
This makes communication between teammates all the more important, for if the teammates don't talk to each other, the roles on the ship can't be fulfilled in the right way. There are multiple jobs on the airships, including being a Gunner, an Engineer, or a pilot. Only together can you make it through each battle on your way to true victory.
Plus, as this is a universe full of player characters, whatever faction you swear your allegiance to will have their fates tied to the battles you do. The more you win, the better your faction thrives and grows in power. If not, then you'll find yourselves with your backs against the wall.
Guns Of Icarus Alliance is going to be a console exclusive to the PS4, but you can play it on PC as well. In fact, one of the things the dev team notes is that they wanted to make sure that console and PC players can be in matches together, as well as chat with one another. To that end, they made sure that not only cross-platform play was an option, but also, cross-platform chat. This way no matter what system you play on, you'll always be in contact with your crew.
The team at Muse Games also went into detail about how difficult it was at times to bring the game to the PS4. They had to work with the graphics to ensure quality while also making sure that the system was being used to its fullest. There was also the issue of making sure that gameplay was the same for both PS4 and PC. For if there were major differences, it could affect how matches go.
In the end, though, all issues were worked out and because of that, the game will release in full on May 1st on PS4.