---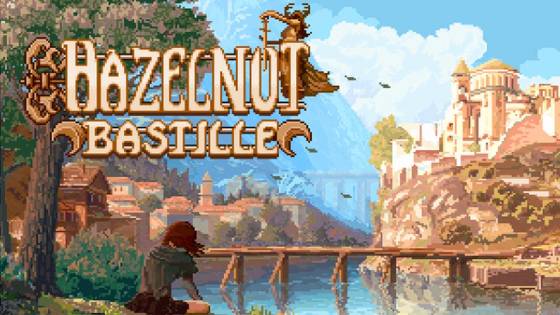 The home computer market isn't at a loss for RPGs, but quality action RPGs can be in short supply. When it comes to those inspired by the Legend of Zelda series, there are very few to go around. 3D Zelda fans have things like Oceanhorn, while games like Hyper Light Drifter evoke a bit of the look, but none of the feel of a Zelda game. Hazelnut Bastille manages to not only do that but offer up a wider variety of weapons to use and tackle the Zelda formula and change it up a bit.
The overhead Zelda formula has been done to death by official Zelda games and hasn't really been innovated much by companies who were inspired by it. The devs behind Hazelnut aimed to not only take the overhead Zelda formula to new heights but execute it in ways that haven't been done before. It's rare to see risks taken with this kind of game - with 3D Dot Game Heroes being the last one that really tried to take that format and change it up in major ways.
It blends an overhead action RPG with a bullet hell shooter and requires you to use not only offense to defeat enemies, but also evade tons of long-range fire. Fortunately, unlike a regular Zelda game, you can respond in kind with long-range fireballs and scorch enemies quickly. The game features a demo on Linux, PC, and Mac that allows you to play a complete dungeon. This dungeon is a self-contained one and doesn't have any bearing on the in-game storyline - allowing you to learn the game's puzzles and figure out its item system on your own time.
The game's modest $65,000 goal has already been met - which means that it should see a release on Linux, PC, and Mac. However, if a stretch goal of $75,000 is met then two more levels, cinematics, and promotional art will be crafted. At $85,000 a variety of extra translations will be available at launch, while $110,000 ensures a Switch version - even though the devs have stated they will already do one. This simply means that they will be able to deliver it in a much faster timeframe.
The devs plan on having a physical computer and console releases, with a PS4 release also planned alongside the Switch version. Getting a digital copy only costs $15, and with a free demo available, it shows that quite a bit of work has already gone into the development of the core game. Trying out the demo allows you to see if you'll like it, and if you do, it only takes $15 to get a digital copy of the game. Stepping up to $20 gets you the OST version, while $40 gets you everything there plus a second copy of the game and beta access. For $50, you get a physical version on a device of your choice- but all you get is the physical version of the game. If you want everything else alongside a physical version, you will have to spend $100. Hazelnut Bastille shows great promise and is currently set for a 2020 release window.