---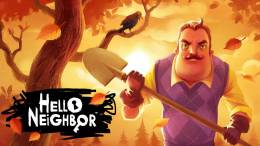 Sony has recently announced that the game Hello Neighbor is coming out for the PS4 this summer. They still have not disclosed the official release date. This game was first released as an Alpha game on Dynamic Pixel's website in 2015 before becoming available on Steam as early access. Eventually, it was released on Xbox One and Windows on December 8th, 2017. It had mixed reviews. While some commended its visual design and story, others criticized its controls and gameplay.
Hello Neighbor is a first-person survival horror with a stealth gameplay style. You see the game through the eyes of a kid who just moved into a new house across the street from a shady neighbor. He notices that his neighbor is acting weird and might be hiding something or someone in his basement, which he keeps locked up. The objective of this game is to sneak into the neighbor's house to find a way to get into the basement. This is harder than it sounds because the neighbor has rigged his house with traps and locks throughout it. If the neighbor catches you, you will be sent back to your own house and will have to try again. Unfortunately, the neighbor is a very smart AI and will change things for the next time you sneak in making it harder every time. Places you have been will be filled with traps and some areas might have added security cameras and locks. You need to gather certain items and solve puzzles in your neighbor's house in order to find a way to unlock the basement door and advance in this game.
Hello Neighbor is a kid-friendly game with plenty of challenges for people of all ages. The fact that the AI seems to learn from his mistakes and makes the game harder, adds to the complexity of this game. Simply running in the front door will have dire consequences as the neighbor will add security cameras and possibly board up his door, the same goes for windows and other various ways to get in and around his house. Since this will now come out for PlayStation 4, some of the clunkiness in controls people complained about might be changed or at least make the game feel smoother with a PS4 controller in hand. The game will retail for $29.99 USD for PS4. Get your hands on a copy of Hello Neighbor this summer.