---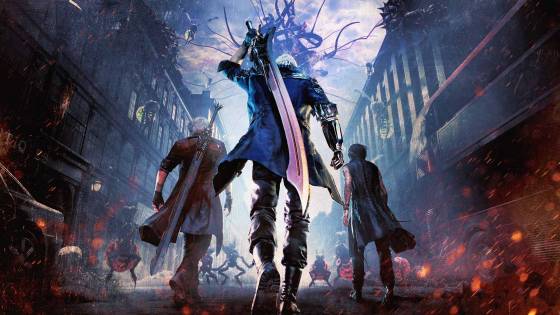 Well, we did it guys and gals! We're here, it's 2019, and January can now begin chugging along. This also puts us two months away from Devil May Cry 5, the next entry in the hit character action series from Capcom, and the first mainline entry since 2008 in the PS3 days. Director Hideaki Itsuno is a rather busy man, but as it turns out, he's not slowing down once the game hits store shelves. Recently, website 4Gamer conducted mini interviews with multiple Japanese game designers and companies. The spirit of the interviews was new year's, in which the site asked them all to give their statements on what's next for their studios. Itsuno was one of them, and surprisingly enough, he's already planning his next game.
"Soon we will complete Devil May Cry 5, the first numbered title in the series in 11 years," Itsuno states. "I'm putting everything I have into it and am looking forward to everyone's feedback. Unlike previous entries, the hurdles of sharing videos and the like have lowered, so I'm really looking forward to seeing everyone's superplay videos on social media." That last part rings a funny chord when you consider Devil May Cry's history. The last entry in the main series, Devil May Cry 4, hit the previous generation of consoles in early 2008. Back then, online videos and sharing were still relatively new, and YouTube certainly wasn't what it is today. Examples of what Itsuno means can be seen by DMC5's recently released Xbox One-exclusive demo, where players have been recording their best, most complicated combos on enemies and uploading them to the platform. It's a different world for Devil May Cry to enter now, and the possibilities will expand further with the full game out proper.
According to Itsuno, plans for his next game will officially begin after Devil May Cry 5's big, free update in April. "After its release on March 8, and after checking the free update coming in April, I'm going to refresh and prepare for my next title," the quote reads. "I hope to work hard so that my next title meets everyone's expectations, and so that I can announce it as soon as possible." As for what the game is, that's all Itsuno could say on the matter, which is understandable at this super early point in time. Many have already begun speculating what the game might be. While a new DMC is pretty unlikely until we see how DMC5 sells, a lot of fans are leaning towards something Rival Schools related. Rival Schools was one of Capcom's early fighting games, and a title that Itsuno just so happened to design. Even so, the man has had a broad history with his time at Capcom, taking part in games like Dragon's Dogma and Power Stone.
Whatever the case may be, kudos to Itsuno for all of his hard work. It couldn't have been easy for him to sit on the big secret that was Devil May Cry 5 for all those years, so I can only imagine how he might be feeling already about a new game. Devil May Cry 5 is slated for a March 8th release date this year, and it will be available on Windows PC, Xbox One, and PlayStation 4. As already noted, Xbox One players got an early chance to try out the game with their exclusive free demo of it, something that still hasn't made its way to other platforms. If you own an Xbox One and you're curious, make sure to go try it out. But first, don't forget to check out Gematsu's translated version of the 4Gamer interviews. Some other notable anticipations can be found in there, including the new fantasy RPG being worked on by Atlus and Persona director/producer Katsura Hashino. This week has been filled with a lot of studios announcing intentions for future games. I can feel the hype brewing already.