---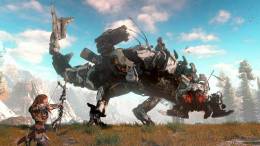 In a recent interview on Youtube, Mathis De Jonge has revealed something very interesting about his most recently released game. Horizon: Zero Dawn was originally planned to be a two player game however, they quickly realized this would have to change.
In an interview with Noclip on youtube, De Jonge has stated that the prototype for the popular game included working two plat co-op. This feature had to be removed from the game.
Essentially, the programmers realized that they couldn't add co-op and all the other features to the game. Adding co-op would have meant that the game would have lost 50% of it's features. As a result, the team was forced to drop co-op in order to keep all of the other features.
While co-op would have changed Horizon: Zero Dawn drastically, there's also some other things that were changed. For example, the map was initially fifty times bigger than the final version. The art team pointed out that it wasn't possible to fill the map with enough content however so it's size was reduced.
If you're a fan of this game then we'd suggest you take a look at the interview!