---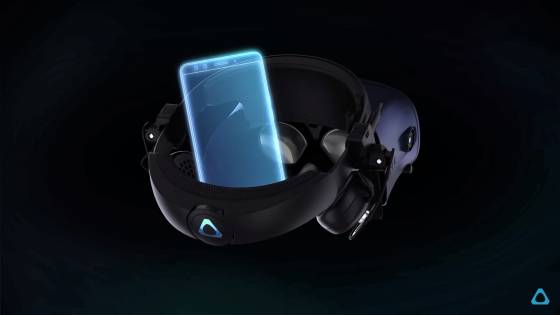 The VR train continues spinning its wheels, and honestly, I couldn't be happier about it. It's still a very new market, so it's always exciting to see the big three involved pushing forward with new tech (especially so when that new tech is more accessible for a general audience). If you feel the same, then you'll be excited to hear this news! The Consumer Electronics Show was held just the other day in Las Vegas, Nevada. The annual show takes place every January, and serves as a chance for a lot of big companies to reveal the interesting new tech they have waiting for us on the horizon. One such company at this past show was HTC, well known in the gaming community for their HTC Vive VR headsets. The company had multiple things to announce, but one of the biggest was the Vive Cosmos, a standalone VR headset designed for ease-of-use and simplicity. Those who already own a Vive may know where they're going with this.
With a traditional Vive setup, users are required to install base-board sensors in each corner of their desired room-of-play, allowing the Vive to accurately detect and track your position in space while you do your thing. The Vive Cosmos wants to remove this barrier of entry, as it can be daunting and confusing for people who might not be as skilled at technological setup. To do this, it employs the use of "inside out tracking" technology, which from the sounds of it is aiming to do the same space detection as the sensors, just from within the device itself. The biggest question most have though is: What's it compatible with? While the teaser trailer implies a mobile phone, HTC has gone on to confirm Cosmos can hook up to your beefier gaming PCs just as the other headsets can. Naturally, using the latter will provide an even better quality experience than your mobile phone, but a phone's portability is a plus.
"The tools and environments that make up Vive Reality System aim to make spatial computing accessible to everyone, wherever their journey into immersive worlds takes them," stated Creative Labs HTC Vice President Drew Bamford. "We want VR to feel less like launching apps and instead like stepping between worlds." The Cosmos was designed with this in mind, requiring minimal setup and a more comfortable headset. HTC also vaguely hinted at the new technology being utilized with it, stating that it's running on the company's new Vive Reality System. What is the Vive Reality System? Your guess is as good as mine. All they could say on it was that it will "[encompass] the total user experience from the moment a headset is put on to how content is interacted with." See? Vague, but exciting! All in all, the Cosmos seems like a potential competitor to Oculus' recently announced Oculus Quest, another standalone VR headset that can utilize the technology without connection to a phone or PC.
The Cosmos wasn't given any price points or release date information, but developer kits will be shipped out early this year, giving the press some alone time with the new technology. Reports are sure to follow after that. We'll likely be looking at a late 2019 release for the Cosmos, which is the same timing Oculus Quest is aiming for. HTC also took the show as a chance to announce the Vive Pro Eye, which is a new and improved version of their existing Vive Pro device. The difference between the two is in the name: The Eye adds in eye tracking, providing additional detail and fewer chances of motion sickness, alongside quality-of-life stuff like menu navigation with gazing. As with the original Pro, the Eye can only be used with your PC. Both Pro headsets are intended more for a professional user, whereas the Cosmos is aiming for a more casual experience. You can check out HTC's trailer for the device down below; it's as sleek looking as it sounds.