---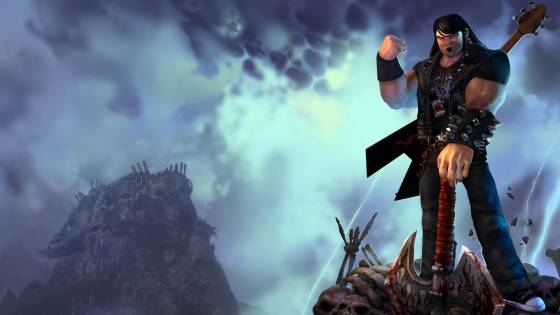 I think it's safe to say we all know who Jack Black is. A man of many talents, known best for his acting roles in hit movies like The School of Rock and Nacho Libre. He's also had a long career as a musician with Tenacious D, a rock duo he formed together with Kyle Gass, serving as the lead singer. But what some may not know about Jack Black is that he's pretty into video games. Or, as his newfound YouTube channel puts it: "I kinda like games." Yeah, that's correct, Jack Black has begun his own YouTube gaming channel. Why? I think it's probably better not to ask why and just enjoy the ride. The channel kicked off on December 21st a couple of weeks ago with a single upload, consisting of Black sitting/spinning around in a gaming chair naming off other YouTube gaming channels that he'd be bigger than. It didn't take long for the video and channel to both explode in popularity.
As of the time of this writing, Black's channel (which goes by the name of Jablinski Games) is sitting at nearly 2.5 million subscribers. A few days ago, Black uploaded a second video thanking fans for his 'billions' of subs before giving a more heartfelt thanks at all the love. While there are no actual games being played on the channel just yet, he's assured that he plans on starting all of that sometime in 2019, probably sooner rather than later. While it's all lighthearted fun, many have noted the hasty rate his channel has gained subscribers, citing it as evidence that he might overtake some other YouTube big-namers. His channel itself has already amassed 13.9 million views total, and it shows no signs of stopping the climb. While this may seem pretty out of nowhere, Jack Black has had a history with video games, in more ways than a lot of other Hollywood actors and actresses have. He's frequently served as a voice actor for Psychonauts developer Double Fine in a couple of their games, as well as reprising his role in 2005's King Kong movie-based game.
Most notably, though, Black portrayed the leading role in 2009's Brütal Legend, an action/adventure RTS game developed by none other than Double Fine. The game was inspired by director Tim Schafer's experiences with music, and he saw fit to have the main character, Eddie Riggs, be modeled after and voiced by Jack Black himself. Naturally, this has led many commenters on Black's new channel to request he do a playthrough of Brütal Legend. Really, I think everyone's hoping for that at this point. It will be interesting to see what he chooses though. Brütal Legend was also heavily inspired (pun not intended) by heavy metal rock music and album covers. It even featured voice talent from rock legends like Ozzy Osbourne. Really, the game's just a good time if you enjoy rock music and Jack Black alike.
In any case, nearly everyone is keeping their eyes peeled on Jablinski Games to see what happens next... and to watch how high the subscriber count continues to grow. "It's gonna be bigger than Ninja," Black states in his first video. "It's gonna be bigger than Pewdiepie." In the video's description, Black gives a little more info on the proceedings, stating that the channel will have "games, food, and life." If you haven't checked it out already, make sure to go give the channel a look, or watch one of its videos right down here. Heck, maybe even give it a subscription if you'd like. It's not often we see Hollywood cross over to games, especially on a platform like YouTube, but it certainly promises to be interesting. Oh, and make sure you go comment that you want Jack Black to play Brütal Legend. Who knows, the more people request that, the more likely it might get played. If you want to try it out for yourself and have a rocking good time, it's available on Windows PC, PlayStation 3, Xbox 360, Mac OS, and Linux.