---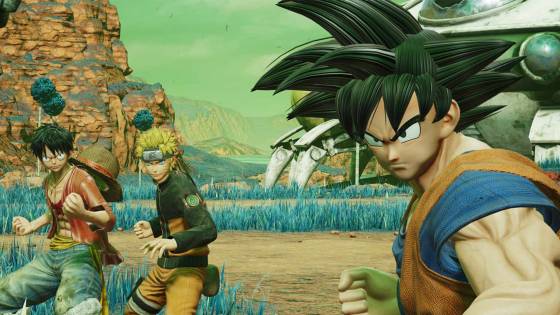 Jump Force is a weird game, but one that looks extremely fun because of its weirdness. Developed by Spike Chunsoft and published by Bandai Namco, Jump Force is an upcoming fighting game that grabs all of Weekly Shonen Jump's famous anime/manga characters and pits them in battles against each other. Think of it like Super Smash Bros. meets anime. So far, 28 total characters have been officially revealed, all hailing from 11 different series. Characters like Yami Yugi from Yu-Gi-Oh!, Piccolo from Dragon Ball Z, and Kurapika from Hunter x Hunter are all here. But Jump Force wasn't about to leave the characters simply at their starting roster. Why not throw in a character creator for good measure? The other day on their official Twitter account, Bandai Namco put out some new screenshots and revealed the feature to the public. If you're even remotely into anime and manga, this thing looks like a dream.
A lot of the outfit options found within the tool consist of pieces of clothes found from other famous Shonen Jump characters, meaning you can mish-mash different aspects of your favorites to get one unique character. All of the character's facial features can be adjusted, and there's plenty of spiky hairstyles to choose from. While you can choose between boy and girl characters, it appears that the clothing items are unisex, adding to the options further. Once you've created your character's appearance and are satisfied with that, you can then go on to the Battle Options menu and add attacks to various command inputs. These attacks come from abilities of other Shonen Jump characters too, and it appears the clothing and these can be unlocked as you progress through the game. Basically, you could create your OC and have him/her with a layout consisting of Naruto's Chidori attacks or Saint Seiya's Pegasus Meteor Fist. You can mix and match these as you like, so there's plenty of room for variety.
Jump Force is a handful of months away, but not much is known about its modes. Being a fighting game, it will almost assuredly have online and local multiplayer as a staple. Options for single player aren't known at present, but considering the character creator and unlocking options for it as you play, there seems to be an overarching story going on here. Jump Force's story is simply all about these characters colliding with the real world, and the game's main antagonist who was responsible for it was apparently designed by Dragon Ball creator Akira Toriyama. All we know for sure is that there will be a story mode of some sort. It also includes notable non-playable characters from other Shonen Jump series, including Light Yagami and Ryuk from Death Note (a fitting decision, considering his busted power). It's all rendered in a slightly realistic, slightly anime art style with Unreal Engine 4. Aside from all the positive excitement the game's been getting, its art style has proven to be more divisive, with some in the gaming community not finding it all that appealing.
But no matter which side of the camp you fall on, Jump Force is going to dash into our lives relatively soon. The game will be releasing early next year, on February 15th, for Windows PC, PlayStation 4, and Xbox One. Digital pre-orders are available now on the game's website, and they come in three options. Standard, for standard, of course. Deluxe comes with a Character Pass (more on that in a second). And lastly, the Ultimate edition, which includes that plus a three-day head start to play the game before release, along with plenty of character creator customization options and items. The aforementioned Character Pass has also revealed that DLC fighters will be added to the game post-launch, with Bandai Namco confirming a total of nine new ones. Their identities are still a mystery, but netting the Character Pass in your pre-order will get you these characters early before release. Oh, yeah, and for those who are more interested in the retail side of things, the game will jump out with both a standard edition and pricey Collector's Edition, complete with an exclusive diorama. We only have a few months to go, so for now, I think it's time to get creating character ideas to put into action for when this game launches.