---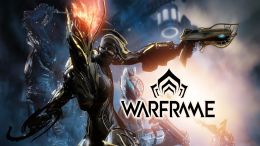 Warframe fans can rejoice today after multiple hype announcements to come out of TennoCon. TennoCon is a convention that takes place every year specifically for Warframe fans, and this year's was the third to take place since the game's 2013 release. For this go-around, the developers over at Digital Extremes sought to announce a couple of important things coming up. First and foremost, Warframe will be getting two big expansions later this year. The best part? You'll be able to play it all on Nintendo Switch, even if we don't quite know when yet. The Switch port is being handled by developer Panic Button after a partnership formed between them and Digital Extremes. Panic Button is the company responsible for big Triple-A Switch ports like Doom, Wolfenstein II, and Rocket League, so you know Warframe will be in good hands on its way over.
For those who haven't seen it yet, Warframe is a popular free-to-play sci-fi third-person shooter that takes place in a large universe scattered across multiple planets and moons. Players take the role of a Tenno, which is sort of a cyborg ninja-esque race (that's right, Metal Gear Solid fans). The Tenno wear unique armor called Warframes, which come in a variety of appearances and can be customized to suit one's style of play. There are hundreds of weapons to go alongside these too. While the game is strongly community-focused, with an emphasis on things like co-op and player-vs-player, you can play through missions solo if you choose to do so. Due to it being free-to-play, Warframe does have microtransactions for purchasing certain items, though these items can be obtained simply through grinding.
The Switch announcement comes just in time for the news of Warframe's two upcoming expansions, Fortuna and Codename: Railjack. Fortuna is the first of the two, set to release sometime this year despite not having a specific date. Fortuna is adding a whole new large area to explore, complete with a new hoverboard transportation method to cross the vast landscapes. Codename: Railjack is looking to be a little smaller of an expansion than Fortuna, but no less exciting. Railjack will see the introduction of a four-player arena mode in space, with Digital Extremes stating that it will feature seamless transitions between space combat and on-foot combat. Just like Fortuna, this also doesn't have a specific release date yet, though it will be sometime this year as well.
Soon enough, Warframe will finally be on the go, and fans couldn't be more excited. While there isn't a date yet for the Switch release, it's likely that it will happen either before the Fortuna expansion or on the same release date as it. Luckily enough, Warframe will keep all of its current updated content when it makes the jump to Switch, so fans can be sure they're playing the most up to date version from the get-go. Digital Extremes made the announcement alongside an action-packed teaser trailer, which you can view below. Since the game is free, you could always try it for yourself before the Switch launch if you want to get a feel for it. Warframe is currently available on Windows PC via Steam, PlayStation 4, and Xbox One. Make sure to keep watch for news on the eventual release dates behind all of these events!