---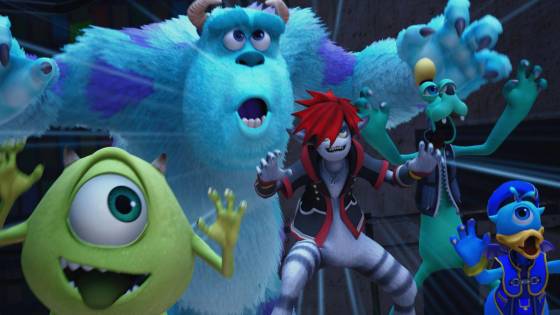 Despite now having an official release date, Kingdom Hearts 3 can still feel so far off sometimes. For this reason, me and many other fans are always thankful for when new info comes out about the game. E3 proved to be an abundance of this, with multiple new trailers and reveals around every corner. A new report from Geek.com's hands-on demo with the upcoming action-RPG provides some wonderful insight into just how much time we'll be spending with it: Around 80+ hours. Those who've played other Kingdom Hearts games won't be too surprised by this, but certainly glad to hear it's keeping up the tradition. The other mainline entries in the series, Kingdom Hearts and Kingdom Hearts 2, were jam-packed with side content and things to do. Kingdom Hearts 3 looks to provide a step above these in every level.
According to the report, Kingdom Hearts 3's main story will roughly take you anywhere between 40 to 50 hours to complete, so long as you stay on the main path and don't deviate. That said, the game has numerous mini-games that can be found as you play. One such example is the Ratatouille cooking game. Similar to the 100 Acre Wood pages from past entries, Sora and company can find ingredients scattered throughout the game's worlds and use them to make recipes with Remy. Another set of mini-games, ones that were revealed a few months ago, are the electronic Tiger Toys/Game & Watch-styled experiences. Details on how these work are still scarce, but there are a lot of them. While the inclusion of hidden bosses wasn't touched upon, almost every single Kingdom Hearts game features hidden bosses of some sort, so we can likely expect those too.
Kingdom Hearts 3 is looking to be both the best game for fans yet and a good jumping-in point for people who might not have the patience to play all the other entries. Set after the events of Kingdom Hearts: Dream Drop Distance, KH3 will certainly have plenty to enjoy for new and old fans alike. The gameplay has numerous additions not seen in prior entries, such as powering up Keyblades, Disney-styled Attraction attacks, and transformation abilities. Square Enix noted that their aim is to make Sora the most agile he's ever been this time around, giving players versatility and momentum in combat so that it never gets dull or non-exciting.
Kingdom Hearts 3 is slated for a January 29th, 2019 worldwide release, though Japan will receive it four days earlier. Once out, you'll be able to play it on PlayStation 4 or (for the first time ever) Xbox One. If you have yet to get into the massive series that is Kingdom Hearts, Square Enix has been making a concentrated effort to make this easier for you. Not only are all the games available in the form of the 1.5 + 2.5 HD Remix and 2.8 HD Remix on PlayStation 4, but Sony is also preparing an all-in-one bundle for the third installment's release. Pre-orders for this bundle are available now, and it will include every game from the series (minus the ones that got turned into cutscenes for the HD remixes): Kingdom Hearts 1.5 + 2.5, Kingdom Hearts 2.8, and Kingdom Hearts 3. That's a grand total of 7 games and 3 movies, making this an extreme bang for your buck. You can view the latest E3 trailer below, or check out Geek.com's full report for all the smaller details!