---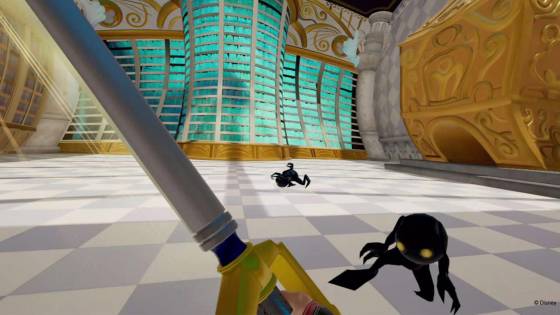 Have you ever wished that you could be a Keyblade Master? If your answer is yes, here is some good news for you: Kingdom Hearts is releasing a short game for PlayStation VR- and it's free! Sony announced this free gift for all of the Kingdom Hearts lovers out there. Sony made the announcement during its pre-Tokyo Game Show PlayStation live stream. A brief trailer was shown, introducing the game and teasing some of the virtual experience.
In the trailer, it is shown that players will be able to wield a keyblade to fight some heartless by using the VR Move Motion Controller. The video shows some iconic moments from past games in the series. There is not much information on what will be included in the game, but Square Enix promised that there will be some fan favorites included in the VR experience. Plus, it will feature music from all of the games.
Although the VR experience is a short piece that lasts only around 10 minutes, Square Enix reveals that you will be able to unlock more content for the game- which means you can make it longer by unlocking the content the more you play.
Kingdom Hearts VR is said to be released before Kingdom Hearts 3 during this holiday season. There is no exact release date, but it is expected to be here sometime in December- kind of like a holiday gift, since its free.
Not long ago, Sony announced that they will be releasing a special-edition PlayStation 4 Pro themed around Kingdom Hearts III. However, so far, it has only been sold in Japan. They have not given much information about it other than how it looks, but who knows- maybe they will release it in other parts of the world such as North America or Canada.
The Japanese exclusive, special-edition console has a Kingdom Hearts-themed look, and they are also releasing a matching DualShock 4 controller to go with it. The PlayStation will launch alongside the game on January 25, 2019, but it is unknown whether the game will be included as a bundle with the console.
It isn't confirmed by either Sony nor Square Enix if the system will be only exclusive to Japan, so hopefully for the sake of Kingdom Hearts fans everyone else in the world, they will release it in other regions! So many fans have been worried about this for a while and have been making tweets on Twitter and Reddit posts about the console in hopes that Sony will make it available to everyone. There have even been a few petitions going around. But since it is not confirmed, there is still hope!
Kingdom Hearts fans, please stand by for more updates on Kingdom Hearts 3, Kingdom Hearts VR, the Kingdom Hearts exclusive console, and other general Kingdom Hearts updates and news! Stay in the light.