---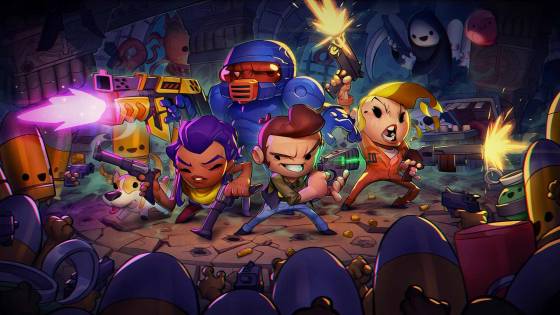 Despite coming out two and a half years ago, Enter the Gungeon has kept afloat with a variety of post-release updates, expansions, and content to keep all of us busy with our questing. The roguelike bullet-hell indie game was developed by Dodge Roll, and published by the folks over at Devolver Digital. One of their more recent expansions was the "Advanced Gungeons & Draguns" update, which added a plethora of new guns and enemies, alongside easier and harder ways to play for new and experienced players alike. It's been known for a bit now that another big expansion was in the works, but now, it's been shot down in favor of something new. Dodge Roll took to Reddit the other day to make the announcement, confessing their reasons behind this cancelation decision and what they're going to do now.
In essence, the decision came about due to Dodge Roll's growing experience as game developers. Enter the Gungeon taught them a lot of lessons, to be sure, but it's made them so experienced that continuing to support the game has been difficult and tricky for the team. Whether it be due to the code, the game's procedural roguelike gameplay, or a mixture of both, the team quickly discovered that Gungeon wasn't as modular as they wanted it to be, describing it as having "shaky foundations". This hit the hardest for them when working on the Advanced G&D expansion, with cancellations for that discussed multiple times during development due to the wear and tear being so bad on the team. "The short version is: we have been working on Gungeon for nearly five years now and from both a technical and a creativity standpoint, we need to move on," wrote Dodge Roll in the post. "We have learned so many things about making games that are just impossible to put into practice in Gungeon (without rebuilding the entire game), and honestly, we're just more excited about putting these ideas into practice in a new game. For the reasons outlined above, we have chosen to cease development on the planned paid expansion and instead deliver a smaller, free and final update."
This final update likely contains bits of content from the canceled expansion, including bug fixes and a new character. Once it lands, that will be the final end point for Enter the Gungeon. The team's passion behind new ideas will then be put into a vague newer project, one that's still "at an incredibly, incredibly early stage", according to Dodge Roll. All they could really say about it was that it's a lot more ambitious an idea than Gungeon and that they'll do their "very best to bring the humor, challenge, reactive combat, detail, and quality you have (hopefully) come to expect from Dodge Roll." We don't know when to expect the final patch to roll out for players, but Dodge Roll assured they'll tell more about it "when they have it", so for now, we wait and play more Enter the Gungeon! The patch will also boost performance on the Nintendo Switch version of the game, a relatively newer port due to Gungeon releasing back before the Switch was even a thing. Hopefully, it'll allow the addictive shooter to go out with a bang, so to speak.
There's a lot more Dodge Roll had to say in the announcement, most of it consisting of behind the scenes details and heartfelt thanks to the fans and community. If you'd like to read it all, head on over to Reddit to do so. Enter the Gungeon is available on Windows PC, Mac OS, Linux, PlayStation 4, Xbox One, and Nintendo Switch, so no matter what your platform of play is, you have plenty to pick from if you have yet to dive in. Better yet, if you have a buddy to play with, there is a co-op mode available that allows for a fifth controllable character. While Dodge Roll's new project is still in the dark at this early stage, if the fun of Enter the Gungeon was any indication, it's going to shape up to be something pretty special. There's also no word yet on if Devolver Digital will return to publish this new game. For now: best to kick back, relax, and watch one of Enter the Gungeon's old trailers. It'll be sad to see the game go, but it'll always be there for anyone to buy and play, so at least there's that. Best of luck to Dodge Roll with all of their future endeavors!