---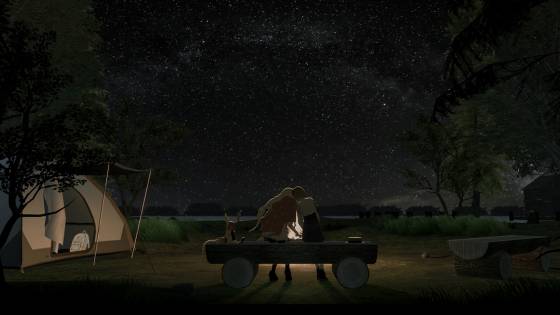 Hidetaka Suehiro (known popularly as Swery or Swery65) is a game designer who's had a bumpy time through the industry for the past few years. After the release of the first episode for his Xbox One Kinect developed D4: Dark Dreams Don't Die, Swery left developer Access Games. This was a year after he announced that he'd be taking a break from game development for health reasons. In that year gap, it seems that Swery got his fire back. While we'll never see a conclusion to the fun and entertaining D4, Swery went on to establish his own indie game studio under the name White Owls Inc. They've had a couple of games in the works, and their very first game is now only a week away. It goes by the lengthy title of The Missing: J.J. MacField and the Island of Memories. Swery and White Owls put out a launch trailer for it just the other day, and it's... bizarre, to say the least (as Swery's games tend to be)!
One of the weirdest things about The Missing is that no one is really certain what the game even is. Gameplay elements have been discussed and shown off at various game conventions like PAX West, but the story and setting are something of a mystery. You play as the titular J.J. MacField, a blonde haired woman who is searching for her missing friend: Emily Thompson. Huh, it's all there in the title, isn't it? J.J. MacField is essentially immortal, able to withstand death-defying states that would otherwise kill normal human beings. Using this ability, she must traverse a nightmarish and trippy world filled with monsters and traps as she searches tirelessly for her friend. The game seems to be leaning hard on its horror aesthetic, something Swery has had experience with in past games. The game's spooks and frights sometimes look like monsters straight out of Silent Hill.
The game's perspective is one of a 2D platformer, an interesting switch-up from Swery's more common 3D adventure games. It's fully voiced, and presented in a colorful yet creepy art style that takes influences from 1950s Americana. Due to J.J.'s aforementioned immortality, you'll sometimes be required to play certain areas only as her head, or leg, for example. It's every bit as strange as it sounds, and every bit as compelling, all of which Swery fans will be more than used to by this point. While The Missing is White Owls' first proper in-house game, it's not the only one they'll be relying on after its release. Earlier this year, Swery started up a Kickstarter campaign for White Owls' other new game, The Good Life, after it failed to get proper funding on Fig. It was a nerve-wracking time, with many of Swery's closest fans rallying together to get the word out for the game so that it could be funded in time; thankfully, it was. The Good Life is farther off, but Swery has assured that he and White Owls will be able to focus completely on its development once The Missing is out. The Good Life is expecting a 2019 release for PS4 and PC.
As for The Missing, White Owls wanted to take a different approach with its release. Once the game launches in just a week on October 11th, it will be available on every current-gen platform: Windows PC, PlayStation 4, Nintendo Switch, and Xbox One. Swery's hope is that with the game being on so many platforms, more people will have the chance to play once hearing about it via word-of-mouth. He is also setting out with the goal of inspiring other indie studios with their bold approach, especially since they're releasing in a time period between huge games like Spider-Man and Red Dead Redemption 2. Best of luck to Swery and White Owls, and to the success of The Missing. If you want to get properly spooked just in time for the Halloween season, make sure to check out the game's launch trailer below!