---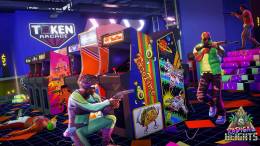 LawBreakers has had a fairly rough time since its worldwide release in August of last year. Despite positive critical reception, the game failed to garner a proper audience, with the percentage of players dropping steeply from beta to release. The developers over at Boss Key, founded by Epic Games' Cliff Bleszinski, have now shifted their focus to a new game, which they revealed today with a colorful new trailer. Known as Radical Heights, this game is a free-to-play multiplayer battle royale shooter, in the same vein as the ever-popular Fortnite and PlayerUnknown's Battlegrounds.
Seeing another battle royale shooter might not surprise too many since that seems to be one of the most popular trends in the gaming space right now. Where Radical Heights looks to set itself apart from the competition is in terms of style and flair. As seen in the trailer, the game is going for a hardcore 80's type of aesthetic and blends it in with a very tongue-in-cheek style of humor. In comparison to the other two biggies, Radical Heights doesn't appear to take itself too seriously but rather aims to give players a goofy and hilarity-filled gameplay experience. The game revolves most of its mechanics around collecting in-game cash. This cash will carry over between matches and allows players to buy cosmetics and apparel, or whole new weapons. The game presents itself like a tournament-style game show, with players competing against each other for fame and fortune set against the wacky backdrops.
In a statement, Zach Lowery, the creative director behind Radical Heights, had this to say: "We're huge fans of Battle Royale games along with the bright, inviting irreverence of the 80's aesthetic. Because of that, we want to put our own spin on the genre and create a futuristic 80's world that takes place in 2023 during an over-the-top game show where contestants battle it out for fame and prizes." Interestingly enough, the game is being self-published by Boss Key themselves and has been hammered into playable form in just 5 months. It was also revealed, in relation to this, that the game will be playable for Steam users on PCs tomorrow, April 10th, via Steam Early Access. As the game describes itself, it's in 'X-Treme Early Access', and even goes so far as to inform players on the Steam page that what you see in this Early Access version is just a rough placeholder for the time being. The assets seen in this version, as shown off in the trailer, will be placeholder assets, from the models to the animations and sounds.
With that being said, everyone can expect to jump on board and give the game a try when it hits Steam Early Access tomorrow on PCs. Whether the game will drop on any other platforms or not remains to be seen. Remember that the game is free-to-play, and as Boss Key also mentioned in their statement, the game will not feature any "gameplay-altering microtransactions". Any in-game purchases found in Radical Heights are simply for cosmetics, but these can just as easily be bought with the in-game currency. If you're curious about giving LawBreakers a try, you can play it on either PC or PlayStation 4. Check out the trailer for Radical Heights below to see what all the fuss is about!