---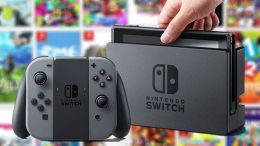 One of the biggest complaints that people have had with Nintendo over the past few console generations is that they haven't always had the biggest 3rd party support. They've had some big titles, sure, but nothing like what Sony or Microsoft have had. However, with the Switch, that seems to finally be turning around. Year one had big gets like Mario + Rabbids Kingdom Battle, Ultra Street Fighter II: The Final Challengers, Disgaea 5: Complete Edition, Skyrim, Doom, and more. And year two is looking even better, especially if a new leaked photo is to be believed.
The photo in question was posted on Resetera but was also posted on 4Chan, so for now, you should take this with a grain of salt. However, many credible sources seem to think that this is very real. Basically, it states that at E3 2018, Nintendo will reveal that Dragon Ball FighterZ, Fortnite, Monster Hunter Generations Ultimate, FIFA 19, Killer Queen Black, Starlink Battle For Atlas, Paladins: Champions of the Realm, and Overcooked 2 are coming to Nintendo Switch this year.
While it's easy to speculate this to be false, there are some things that need to be said here. First, Monster Hunter Generations Ultimate is already confirmed for Switch. And yesterday (after the photo leak), EA announced that FIFA 19 would be coming to Switch, and would feature many upgrades from the previous entry. Which is good, because that one was very subpar as many noted.
Killer Queen Black is an indie title that was released in 2013, and 4Chan states that the games Twitter account has made some interesting changes. Starlink: Battle For Atlas, was announced last year, and was already confirmed for the Switch apparently. Finally, also on that list was a picture of the logo of Mario Tennis Aces, which is set to release a few weeks after E3, so we know that's real.
The question now is, should we believe the rest of the photo? Well, Overcooked was a major hit, and the Switch edition apparently did very well, and so a sequel is very possible. Paladins is a bit of a wild card, as it's a title compared often to Overwatch and has had a lot of issues in the past, as well as the present.
As for Fortnite, the game has been teased numerous times to be coming to the Nintendo Switch, including a recent job posting by Iron Galaxy Studios saying that they made the Switch version of Fortnite. And, given that the game has been on iOS and Android platforms, it's not hard to think it could work well on Switch.
Finally, Dragon Ball FighterZ has been requested on Nintendo Switch for months, long before the game's release in January. Even the voice actor for the English version of Vegeta made posts to Bandai Namco asking for it to come to Switch. Also, the only other Dragon Ball title to come to Switch, Xenoverse 2, sold very well on the platform in a short amount of time, so it's a very likely addition.
All signs point to E3 2018 giving the answers gamers are looking for. Stay tuned for any updates.