---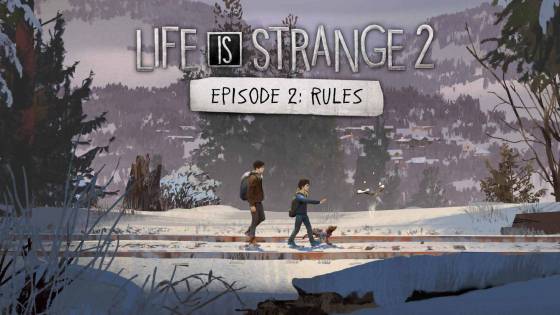 Life is Strange 2: Episode Two has had a pretty lengthy development, but it's finally almost here. The sequel to 2015's Life is Strange kicked off with new characters this past September, but the wait for the next episode out of five has been long and difficult. Thankfully, it's almost here. Just the other day, developer Dontnod Entertainment announced that the second episode has been dated for the end of January. The biggest reveal was the confirmation that this episode will be the one to connect Life is Strange 2 to The Awesome Adventures of Captain Spirit. It was pretty easy to insinuate that from the snow imagery that's been teased, but it wasn't outright confirmed until now. To go along with the proceedings, Dontnod had a special live-action trailer to share, featuring the voice actors of Sean and Daniel from the game.
In the descriptor of that video is our official plot description for episode two, which gives us an idea what we can expect going into it. Picking up right after the end of the first episode, Daniel has fallen sick and Sean has to seek help. The bad news is that it's off the beaten path of their country-wide trek down to Mexico. He seeks the help of his grandparents, but it's there that the two encounter a very familiar character. "There, they encounter next-door neighbor Chris Eriksen, a young boy who believes he has powers eerily similar to Daniel's, and they come face to face with his superhero alter ego, Captain Spirit. As Daniel and Chris are becoming fast friends, it's up to Sean to make sure Daniel follows a set of rules they agreed on for his power: Never in public. Never talk about it. Run from danger." It appears that a large crux of the episode will be about Daniel's newfound powers and what he chooses to do with them in desperate situations… even if he has to keep them secret. They are on the run from the law, after all.
This past E3, Square Enix and Dontnod had announced The Awesome Adventures of Captain Spirit, which released very soon after. The little slice of Life is Strange presented itself as a free game, and one that had connections to the upcoming Life is Strange 2. As a matter of fact, decisions made in Captain Spirit carry over to the game proper. How the two will impact one another remains to be seen. The only connection we have so far is that Daniel and Sean eventually show up near Chris's place. Considering the marketing Dontnod has done for the character, he may end up becoming a major addition to the cast in the proceeding episodes. For now, all we can do is twiddle our thumbs and wait, or maybe play more Captain Spirit to find clues.
Episode two, entitled 'Rules', will release on January 24th this coming new year. The other three remaining episodes will likely have similar development times. Life is Strange 2 is available on Windows PC, PlayStation 4, Xbox One, Mac OS, and Linux. The Awesome Adventures of Captain Spirit, meanwhile, is available for all of the above platforms minus Mac and Linux, and it's completely free of charge to play. Life is Strange 2 follows the story of two brothers on the run after an unfortunate accident occurs, spurring them to make their way to their father's hometown of Puerto Lobos, Mexico. Along the way, the younger brother discovers he has strange powers, in a fashion similar to Max from the first season. The live action trailer Dontnod put out portrays the climactic moment of episode one, so don't watch it if you want to go into the game unspoiled. With that being said, the trailer is viewable down below.