---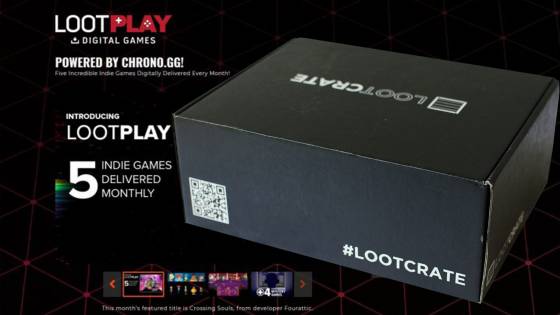 Loot Crate is famous for their monthly subscription service, sending a mailed box your way filled with geek-related goods and items. Now, they want to tackle actual video games. More specifically: Indie video games. The company recently announced a new subscription service known as Loot Play, a way for PC gamers to get access to a huge variety of indie games at a low monthly cost. It's being brought due to a partnership with Chrono.gg. Many have compared it already to services like Sony's PlayStation Plus and Microsoft's Games With Gold, which provide a selection of free games every month as well. According to Loot Crate themselves, all games featured on the service are "high quality" and "highly curated".
Each month, you'll be able to expect five indie games via Steam keys delivered to your email. The delivery dates for those codes can be found on the service's official website. Naturally, you'll need a Steam account to make use of Loot Play. Of the five games, one game will be selected from that group and revealed ahead of time to the public. Alongside this, that game will also get featured during Loot Crate's livestreams every Tuesday, with in-depth looks at the game's development history and background. The other four games will remain a mystery until the time comes for the keys to be delivered, keeping in line with Loot Crate's 'mystery box' services. "We want to help subscribers find new games that are curated with a focus on creative new voices," said Loot Crate VP of Product Marketing and Communications Erik Reynolds. "And we want to help these independent studios reach new audiences through our large network of Looters." He goes on to note that Loot Play is the company's first foray into the digital market, paving the way for the future.
The game to be featured for this month's selection is Fourattic's Crossing Souls. It released in February earlier this year on most platforms, finally making its way to Nintendo Switch this past July. The game is a 2D action/adventure title, with pixelated graphics to look the part. You play as a group of friends who stumble upon a mysterious and sinister artifact, one that dangerous groups are looking to get their hands on for their own use. Each friend has their own combat and navigational abilities unique to their personalities. The whole experience goes for a very 80s-Goonies vibe, blended up with Saturday morning cartoons for good measure (as seen in its cartoon-inspired cutscenes). If you're on the fence about it, there are demos available for it on multiple platforms to give it a try first.
Loot Play debuted alongside Loot Crate's announcement of it, and you can sign up for the service on their website. According to it, the delivery dates for this month's indie games will be both the 17th and 18th. All five of the games are carefully picked, and Loot Crate partnered up directly with the developers in order to get them selected. The monthly fee is just $10. If you're a PC gamer and want a new way to experience even more games, Loot Play might just be for you. If you want to cancel at any point, the process is easy; no phone calls needed, and the games you've acquired already are yours to keep for good. Currently, the service is only available for those residing in the United States. Loot Crate made sure to emphasize the 'currently' part of that though, implying this may expand internationally. You can get a look at both the service itself and Crossing Souls in Loot Play's debut trailer, viewable just below here!