---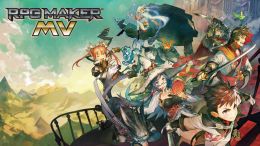 Anime Expo is currently underway, taking place from July 5th through the 8th. It often serves as a handy venue for more niche Japanese companies to make exciting game announcements and reveals. Just yesterday saw the reveals of a new game from Zero Escape's creator, a Spike Chunsoft Japan-only visual novel finally headed West and more. Of all these announcements, one of the biggest came from NIS America, who revealed that RPG Maker MV will actually be making its way to consoles sometime next year. Considering how PC-centric the series has been, especially as of late, this news comes as a pleasant surprise even if it does beg a few questions as to how it'll work. Despite that, some may have been anticipating this due to Amazon Mexico leaking the news a month ago.
RPG Maker has been a long ongoing series of titles that allows players to make their own RPGs from scratch, provided with an easy to learn system and tools to get going. The base editor comes with plenty of pre-made assets and building blocks to choose from, but the real intrigue comes in importing one's own assets to make the game entirely their own. The series has been used to make some very popular indie hits, like To The Moon and The Witch's House. RPG Maker MV is the newest installment of the series, which released for the first time near the end of 2015. MV saw the return of things like layered tilesets for map creation, as well as the addition of multiplatform support and high-resolution graphics. Because of the timing between releases, chances are we may see the next version of RPG Maker here in the next couple of years, but having such a new version on consoles is extraordinarily useful.
Conversely, there's still a lot of unknowns behind this announcement. Because RPG Maker MV is a PC focused game, allowing users to type in information, code, import PC assets, etc, it makes one wonder how these things will be adapted for console use. The trailer NIS America provided with the reveal doesn't shed any light on this, instead of being a purely cinematic hype trailer to reveal the platforms. What was confirmed, though, is the inclusion of sharing. According to NIS, the console versions of MV will come with a player app free of charge. Using this app, players can browse and play the shared RPG games created by others. We've yet to see how this feature will look, but it's good to know that it's there; it means no matter who you are, you can get your creations out there for people to experience.
The release date is currently set at the very broad window of '2019', so hopefully, we'll get something more specific in the coming months. You'll be able to get RPG Maker MV on PlayStation 4, Xbox One, and most handily, Nintendo Switch. The switch has an obvious advantage in this regard in that it will allow players to work on their RPG games on the go in handheld mode, a feature that expands MV quite a bit past its PC origins. While MV is priced at $79.99 on their official website and Steam, the console versions will only cost $59.99, and pre-orders are open now. You can view the associated reveal trailer below, which is flashy and pretty to look at, even if it doesn't show the tool itself.