---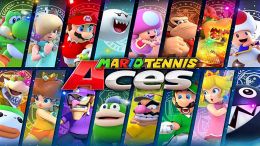 Mario Tennis Aces finally made its debut a little over a week ago, bringing a fresh new formula to the Mario Tennis series of games by pushing it down a more intense fighting-game-esque route. Despite this divisive gameplay swerve, people are having a lot of fun with it! Some have felt that the content is a bit sparse right now though, and thankfully, that's set to change with some new updates that are releasing over the coming months. One of these new updates will see the introduction of three new characters, as revealed in a brief trailer Nintendo put out the other day. Before these, though, two other new characters are set to hit the courts very soon. Let's dig into the details!
Mario Tennis Aces actually received its first major update just the other day: Version 1.1.1. This update ushered in the new Ratings feature, which is now usable in online matches as of July 1st. With Ratings, players will earn ratings at the end of every match via a point scaling system, which will go up or down depending on how well players did. With this, it becomes easier to tell how strong or skilled the person you're facing is, which is incredibly handy in online matches. The other changes in the update are a bit more minor but no less useful. Various tiny quality of life improvements, such as Online Tournament bug fixes and AI aggression changes to Adventure mode courts, means that the overall experience is a lot more player friendly than it was before. This was a common complaint for Aces initial release, and one Nintendo is smoothing out as it goes.
As far as the new characters go, there's a lot to look forward to. First and foremost are the upcoming two new characters for August: Koopa Troopa and Blooper. Just like the three farther off characters, Troopa and Blooper will be entirely free for all players. If you can't wait for August 1st, Nintendo is allowing players to gain access to Koopa Troopa early by scoring enough points in Online Tournaments over the course of July. The three new characters coming this Fall are shown very quickly at the end of the latest teaser: Diddy Kong, Birdo, and Koopa Paratroopa will be joining the ranks. The first two especially are fan favorites! There's no specific date yet for their introduction other than the Fall release window.
Considering how Aces just released, it's quite heartening to see it gaining new additions in just the span of several months. 2019 will hopefully, and likely, be just as lucrative for the game in this regard. Mario Tennis Aces is available exclusively on Nintendo Switch! If you're a fan of past Mario Tennis games, chances are you'll like Aces too, though its more intense gameplay mechanics may take some getting used to. Do note that Nintendo Switch Online will go live sometime in September, meaning you'll need to sign up for that in order to play Aces' multiplayer modes. You can view the latest teaser below for a fast thirty-second run-through of the aforementioned characters! Keep an eye out for further updates to Aces as Nintendo continues to roll them out.