---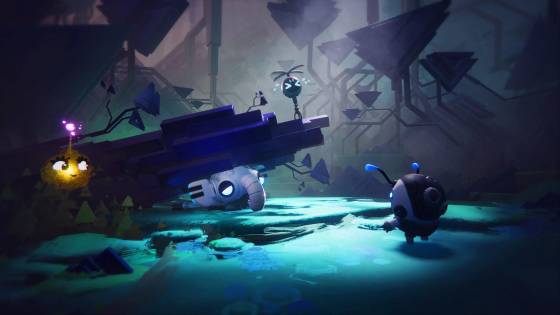 The waiting game for Dreams, the newest upcoming title from Media Molecule, has been long and torturous. Initially revealed at Sony's 2015 E3 press conference, the artsy-looking game creator has been delayed repeatedly, pushed all the way back to a 2019 release. The public beta for it, also announced in 2015, has been delayed multiple times as a result. Thankfully, all of the waiting can finally end relatively soon. Media Molecule teased a big announcement the other day on their official Twitter, revealing that they'd be holding a 'totally normal' Dreams livestream the very next day. The livestream happened, and with it, the announcement of the public beta dates. The developer was trying to stick to a 2018 release for the beta, and while they still are, there are some caveats.
So, here's the rundown! The public beta for Dreams will be launched today, December 19th, as of the time of this writing. However, this launch will only be for people subscribed to the MM newsletter. Those not subscribed, or those who subscribed after December 7th, will have to wait until 2019 to get their hands on the very same beta. For them, and the rest of the public, sign ups will begin on January 4th. The beta will then begin for those people on January 8th. While Media Molecule does want to get in as many people as possible, they won't be able to do so for everyone. Therefore, make sure you sign up and see what happens. People will be invited to the beta in waves, with every wave after the first being rolled in following January 8th's first entries. The beta in question will last until January 21st, meaning those already subscribed to the newsletter will have a longer time to create as they please.
The beta will focus solely on Dreams' creation mode features. As a result, you won't be able to try out its story mode or PS VR capabilities just yet. MM describes the suite of creation tools in the beta as a "pretty complete set", and there will even be a partial set of tutorials thrown into the mix to help you get started. Some social features will be seen as well, but not all of them. The only other thing will be some playable mini-games made by MM themselves. Before you think about signing up, make sure you know the requirements ahead of time. Firstly, you need to be 18 years or older to sign up. You don't have to have PS Plus; just a regular PSN account will do. The beta will only be available in EU, US, AUS, Canada, Africa, and the Middle East, and will only be playable in English for now. The good news is that whatever you end up creating in it will carry over to the final version of the game, barring any technical issues.
Dreams still has no solid release date, but at least the beta is almost here. This will be the first time Media Molecule has really gotten the game out into the wider public's hands. It's important to note, however, that you'll be required to sign a NDA if you get inducted into the beta. That means no streaming it, and no sharing it all over social media. MM assures that this is so feedback can be more controlled and direct, as they're not ready for everyone to look in just yet. Media Molecule's previous game series, LittleBigPlanet, also featured game-creation tools with an online mantra of Play, Create, Share. Dreams follows a similar format, letting players create their own games and share them with the community, but the amount of creative potential and tools involved look wildly deeper and more varied than LittleBigPlanet's. It's no exaggeration to say that players will be able to create just about anything they want in here. For the full beta details, make sure you read MM's FAQ on the subject. Dreams will be a PlayStation 4 exclusive.