---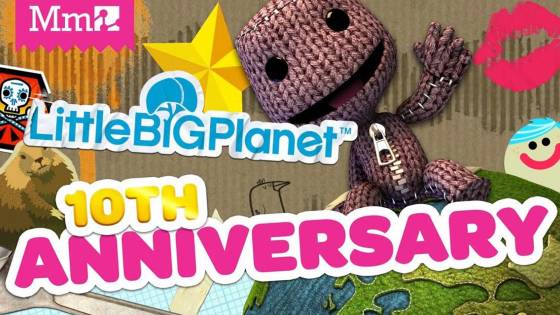 Ready to feel old? LittleBigPlanet released 10 years ago. While you chew on that existential factoid, developer Media Molecule naturally wanted to celebrate the game's double digits. They did so in a big way too, thanks to their upcoming PS4 exclusive: Dreams. Just the other day, they gathered 'round for fans and held a Twitch stream to play through LittleBigPlanet... inside Dreams! The slice they showed off was a near-perfect recreation of The Garden level from the original LittleBigPlanet. While this might not sound all that impressive at first, watching the video of it shows just how intricate a recreation this is. Everything from LBP's floaty jumping to the way the Sackboy characters animate is almost indistinguishable from the original game. They even got a working Popit menu thrown in there for good measure.
LittleBigPlanet first released on October 27th, 2008 for the PlayStation 3. It served as one of the console's earliest and brightest exclusive hits, giving the growing PSN community a way to create their own levels and play each other's with the game's in-game level creator. It spawned two more sequels, with 3 serving as the series' first jump to the PlayStation 4. The communities behind each game created some wild things with each level creator; all of the levels became more complex and intricate with every entry. The second and third games especially saw a huge jump in creative potential, with players creating games from all sorts of genres. Media Molecule's upcoming Dreams looks to be taking LittleBigPlanet's 'create-play-share' format and dialing it up by about 1,000.
The rough news is that Dreams has been in development for quite some time now. It was officially revealed to the public at Sony's E3 2015 presser and has made various appearances at the showcase since then. The game was even used to create the little instrumental performances Sony played at their E3 conference this past year. It's had a lot of release date projections and windows over the years since its reveal, but unfortunately, it keeps being pushed back. Dreams has been compared to a game engine within a video game due to the vast amount of creation tools it boasts, letting players create just about any kind of experience they could want (except for MMOs, according to Media Molecule). Whereas LittleBigPlanet's levels were dependent on the restrictions of its gameplay framework, Dreams doesn't appear to have any limits to speak of. Quite a number of videos have already been put out by the devs to show it in action. In a lovely addition, players can even use PS VR while creating their levels for added immersion.
You can check out the recreated LBP level just below here! It serves as quite a stunning proof-of-concept for why Dreams will be something special. The game is projected for a 2019 release date, and once out, it will be available exclusively for PlayStation 4. The game will have its own MM created levels ala LittleBigPlanet, alongside the level creator which will let you create and share your own games/levels to PSN. It will also have cooperative multiplayer, in case you want to team up with a buddy and create a level together. Media Molecule has mentioned multiple times that they'll eventually hold a public beta for Dreams, but the date for that has continued to be pushed off too. Hopefully, we'll hear more on it soon, especially since 2018 is just about over. I think we can all agree, though, that it's going to be fun hearing about all the crazy things recreated in Dreams after it releases.