---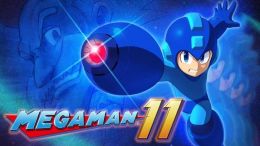 Mega Man 11 has been in the public consciousness since it was first announced back in December of last year, sporting a unique looking hand-drawn art style that puts the game in 2D side-scrolling action with 3D backgrounds. While some have griped about the look, many fans have been eager to find out more, especially since 11 is the newest main installment the series has had in eight years. Now, we know exactly when to look forward to it. In a recent posting from Capcom, they announced that Mega Man 11 will be releasing this October, and revealed more about the game's mechanics that differentiate it from the rest this time around. We even received a sporty new trailer that shows it all off in action.
Mega Man 11 goes back to the roots of the original games by having a traditional setup of eight Robot Masters to take out in total, some of which have been shown in the current previews. Naturally, once they're all defeated, Dr. Wily's castle will inevitably follow; he's back with a vengeance. The aforementioned hand-drawn art style applies not only to the backgrounds and effects of Mega Man 11 but the character portraits and looks as well, which really gives the game its own distinct appearance from anything that's come before it.
The gameplay has gotten some considerable new additions too, primarily in the Double Gear system. This mechanic allows Mega Man to tap into two different Gear powers, Speed Gear and Power Gear, in order to gain advantages in movement and combat. The names are pretty self-explanatory, but their uses... well, maybe not so much. For example, the Speed Gear speeds Mega Man up, which slows down time around him so you can figure out what to do more easily. While that's the basic use, the advanced players can use it to get through levels more quickly and easily. Power Gear, meanwhile, powers up your normal charged shots and the special weapons you gain from the Robot Masters, enabling you to use powerful attacks of a wide variety. The two Gears can also be used simultaneously in a pinch, letting Mega Man use both their effects at the same time to save himself from certain death. Doing this, however, takes a lot of energy out of him, so you'll want to be sure to time it carefully.
The best news of all though is Capcom provided release details aplenty with their announcement. Mega Man 11 will be releasing on October 2nd later this year, and it will be multiplatform, available for the Nintendo Switch, PlayStation 4, Xbox One, and Windows PC. Pre-orders are available now! Switch owners will want to pay special attention to this one though, as Mega Man 11 is receiving its very own special edition exclusively for Switch itself! Simply dubbed the amiibo Edition, this version of the game comes with a Mega Man amiibo (as he appears in 11), a microfiber cloth, a variety of stickers, and a Dr. Wily patch. Capcom has since confirmed that the amiibo Edition will only be sold at GameStop retailers. With that, the only things left to do really are play other Mega Man games, hope to see more of Mega Man 11 at E3 (which is right around the corner now) and watch the awesome trailer for the game, which can be viewed below! It's a good 2 and a half minutes long and shows equal amounts of both story and the gameplay.