---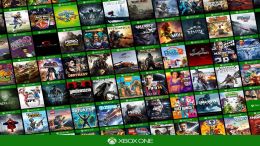 PC gamers are no strangers to the concept of game-gifting, a feature that allows one to purchase a game as a gift for somebody else, sending it to them digitally. Steam has had this feature for years, as well as other PC gaming markets. Considering Microsoft's close relation to Windows, then, it only made sense for them to introduce the feature in Fall of last year. However, it's been quite limited, only available for Xbox One Insiders and certain games, making it super situational to use. Microsoft has fixed this issue now, announcing on their website that digital game gifting will be available for all Xbox One titles, and for all Xbox One players. This, of course, means that there will be no more limits on game gifting, similar to how it is in the PC space.
The company wasn't content to leave the feature just at Xbox One though. Included with that announcement is the reveal that PC games purchased on the Microsoft store can be gifted too. This includes PC downloadable content, like skins and map packs; every game and DLC on their marketplace supports this feature now. Basically, with both Xbox One and a good gaming PC, game gifting has become easier than ever. Curiously, Sony and Nintendo have not had this feature implemented on any of their platforms, aside from the Nintendo Wii, which had a digital gift exchange type feature. Seeing that implemented on an on-the-go console like the Switch would be useful.
The announcement does come with some catches that everyone will want to keep in mind before heading out and digital gifting something right away. First and foremost: Discounted products. Unlike fully priced products, which can be gifted as much as you want, discounted products can only be gifted twice within a fourteen day period, and only ten discounted products can be gifted overall. Xbox 360 games and original Xbox games cannot be gifted, only Xbox One titles. Pre-orders and free products, as well as consumable content like virtual currency, are also a no-go with gifting. Last but not least, gifts can only be redeemed in the country they were purchased in.
Despite those limitations, it does open up the gates quite a lot for game-gifting on Xbox One, and the feature is available now for all Xbox One products and Microsoft PC store products. Microsoft said they also intend to improve digital gifting going forward. There will be future updates on gifting things like paid Xbox and PC apps here soon, so keep watch for that. Basically, the feature looks to be expanding even further going forward. Game-gifting has been a big request from Xbox fans, and one nice to see implemented. If you have someone special to you, be it a friend, romantic interest, or family member whom you want to gift, now is the perfect opportunity to do so. You can view the full run-down of details on Microsoft's official website.