---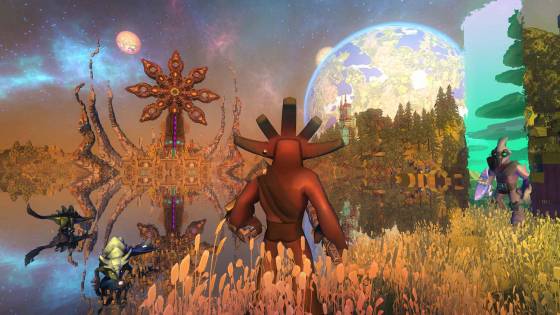 Does the idea of an open-world sci-fi sandbox MMO sound like fun to you? If so, you're in luck! Depending on how frequently you've perused Steam Early Access, you may or may not know of a game called Boundless. It fits the bill of exactly what was described up above and has been in development for several years by the team over at Wonderstruck Games. It's been known for a couple of years now that Sony planned on backing the game for its eventual full release, and now, that time has come. The developers recently took to the PlayStation Blog to announce the release date for Boundless, what to expect from the game, and a pretty new trailer just to add a cherry on top.
As described, Boundless is indeed an open-ended MMO sandbox set in a science fiction alien-filled universe. Players take control of their own alien character avatars, and the entire game's universe is made up of planets that are procedurally generated, similar to No Man's Sky. In some veins also similar to No Man's Sky, the game has a large emphasis on crafting new tools and weapons out of materials that can be found on the planets, and coincidentally can also be played in either third or first person. Once materials are gathered, the goal is to build build build! The universe of Boundless does have plenty of its own natural expanses, but almost everything else in the game is built and maintained by the players. Buildings and cities can be fashioned out of the materials you find, creating genuine communities and hubs from which to play out of. If you want to go somewhere else, you can simply build a portal to other planets you see in the sky.
The main goals of the game are to build communities and structures, explore its procedurally generated universe, hunt creatures, and trade with other players. You can play by yourself, or team up with others, so the experience can be however you want it to be. The best part about all this though? PC players and PS4 players will be able to cross-play with each other, in a move refreshingly different from Sony's latest stances on the issue. Wonderstruck Games plans on supporting the game with new content and updates throughout its life cycle, so fans can always expect something new when they play. Since the game has been in Early Access for going on four years now, there are already communities built in-game. In order to wipe the slate clean for its full release, its entire universe will be reset for all versions upon launch, that way every player can start from scratch with all the new inclusions.
So now that you're up to speed on what Boundless is, when can we expect it to finally launch? Boundless will leave Early Access and launch on September 11th, two months from now. You'll be able to play it on Windows PC or Mac OS via Steam, as well as console-exclusively on PlayStation 4. Keep in mind it will be digital only. It's unknown if we'll see it land on any other platforms in the future, but that's a discussion for another time. In any case, you can check out the full announcement post on the PlayStation Blog, or view the colorful launch date trailer below to see exactly what Boundless has to offer. As the developer aptly puts it: "The universe really is your oyster."