---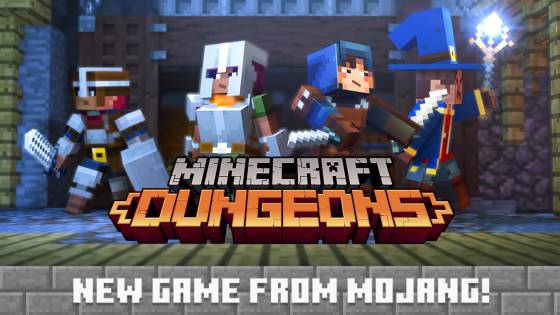 With every year (aside from 2014) comes a new Minecon, an annual convention put together by Minecraft developer Mojang. The event typically drops new info for Minecraft updates and anything related to the ever-popular procedurally generated building game. As it turns out, Minecon 2018 had some extra surprises in store for fans. During the Minecon Earth live stream held just the other day, Mojang dropped a trailer reveal for a new Minecraft spinoff game called Minecraft: Dungeons. As the name implies, Dungeons will be taking the usual Minecraft formula and pushing it into a different kind of genre: Dungeon crawlers. Sadly, outside of the trailer, there isn't much info to go on. Even so, there are enough bits and pieces here and there to formulate an image of what Minecraft: Dungeons is going to be.
First, let's take a look at the official blurb describing the game in its trailer. Up to four player co-op was confirmed right off the bat, though you can choose to play the game solo if you prefer. "Brave the dungeons alone, or team up with friends! Up to four players can battle together through action-packed, treasure-stuffed, wildly varied levels, all in an epic quest to save the villagers and take down the evil Arch-Illager!" it reads. The description goes on to reveal that the game will feature brand new weapons, items, and mobs that haven't been in Minecraft before. According to the game's official website, Minecraft: Dungeons was inspired by classic dungeon crawler games and looks to be taking after them. This might make you wonder if the game will be linear or procedurally generated like actual Minecraft is. Lead developer Jens Bergensten took to IGN to comment on that: "Dungeons is essentially one Minecraft world with specific areas to go to, specific quests, and specific monsters. That said, there are of course procedural elements to the game."
Other bits of info can be gleaned from developer comments later on into the Minecon stream. According to them, the game is top-down and has hack-and-slash gameplay. Minecraft: Dungeons is being developed by a small, internal team at Mojang in their home area of Sweden. It's been worked on for some time, but the developer gave the team the go-ahead to reveal it now that it's a year off. From what can be seen of the one screenshot available for the game, its graphics also appear to be more cinematic and dynamic compared to Minecraft's, with moodier lighting and softer textures. Before the trailer dropped, Mojang Chief Brand Officer Lydia Winters took to the stage to hint that Dungeons is just one of multiple spinoff games that are currently in the works. The other games are apparently also going to explore new genres with the Minecraft framework.
Minecraft: Dungeons is set for a PC release sometime in 2019, and word of any other platforms hasn't been said. You can keep up with the game on its official website, or check out the trailer for it below here, which is primarily just cinematic. During Minecon, the big 2019 update for the game was also discussed, going by the name of "Village and Pillage". As the name implies, this update will bring new villagers into Minecraft, both good and bad. Even the modding community behind Minecraft had a reason to rejoice, as Mojang revealed new modding tools for expanded worlds and mobs. In summation, 2019 is going to be a busy year for Minecraft. If you haven't tried Minecraft before, I say with no exaggeration that it's available on pretty much every platform under the sun. You can play it on PC, Mac, Linux, Android/iOS, all current-gen consoles, and some previous-gen consoles too. It's time to get building!