---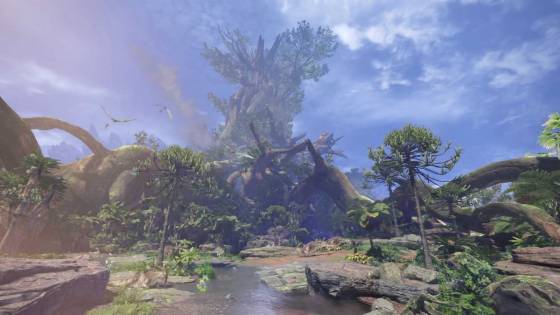 In a little over a month from now, we'll be hitting the first anniversary for the ever-growing Monster Hunter: World. The hit action RPG landed on consoles in January of this year, before making its way to PC in the summertime. With a year almost under their belt, the developers at Capcom have some big things in store for the fans. How does an expansion sound? Turns out, that's exactly what they had in mind. In a new post put out on the PlayStation Blog, Capcom pulls back the curtain on a massive expansion for World known only as 'Iceborne'. As the name implies, it will focus primarily on cold settings and additions to the game, though not much else is known at this time outside of a vague teaser trailer.
What IS known is the plethora of new content it will be bringing our way. Once Iceborne drops, it will carry with it a whole new environment to explore, new equipment and weapons, a new difficulty, and of course, new monsters to hunt. There are some little easter eggs here and there in the teaser, but for now, we'll just have to speculate. According to Capcom, they'll have more to say on the expansion sometime in Spring of 2019, so stay tuned until then! Something to also hold us over in the meantime are the large amount of free updates Monster Hunter: World has been and will be receiving. Unlike these, Iceborne will be a paid expansion. According to Producer Ryozo Tsujimoto, Iceborne itself will be the size equivalent of Monster Hunter "G" or "Ultimate" games. That's pretty big for one expansion!
As for the free updates, there's a lot in store for us. With the new year kicking in gear here soon comes the Appreciation Fest: a celebratory event in honor of Monster Hunter: World's first birthday. Arch-tempered Nergigante is coming in Spring 2019, right around the time we find out more about Iceborne. Last but not least is a timed update dated for sometime in early 2019, which will bring The Witcher's very own Geralt of Rivia to the game. Fitting choice, no? He'll even be fully voiced by Doug Cockle! Details behind this update are a bit hazy right now, such as the details of how fully Geralt will be playable, and what if any elements from Witcher will be thrown into World. It's an exciting collaboration though, and one that's likely bringing together fans of both series. All of these updates, including Iceborne, will be coming to consoles first. Iceborne can be expected sometime in Fall 2019.
If you have yet to try Monster Hunter: World, don't fret! According to Capcom, they'll be putting out a new free Trial Version of the game on December 11th at 4pm PST. This will last until December 17th at 3:59pm PST, so you'll want to enjoy it while you can. The Trial will showcase the first few story missions, alongside a handful of optional sidequests. Owners of PS Plus can enjoy the perk of teaming up with buddies, whether they're playing the trial version or the full game. Best part is that all of your progress will carry over in full when you make the jump. Considering Monster Hunter: World is being sold at a deeply discounted price right now due to The Game Awards sale, the timing couldn't be better. The game is available for PlayStation 4, Xbox One, and Windows PC if you're interested. For the Iceborne teaser, check out that below, or head to Capcom's post about it on the PS Blog. Happy hunting!