---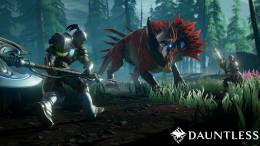 It wouldn't be too surprising if you haven't heard of Dauntless, a role-playing game of the monster hunting variety that's being developed by indie studio Phoenix Labs. The game has actually been playable since September of last year! However, it's currently only playable as a closed beta, one that's locked behind a paywall set in the form of three packs known as the Founder's Packs, with a cheap, middling, and more expensive option. The game has been in development for over four years now, and the closed beta helped bring a contained but passionate set of fans to help shape the experience going forward, drawing in around 100,000 players.
Phoenix Labs recently revealed via the game's official website that an open beta will be coming next month, free of charge, making the paywall no longer a factor. In fact, Phoenix Labs is intending for the game to be free-to-play upon its official release, so now that the free open beta is on the horizon, the game will garner a much wider audience and more attention as the year progresses onwards. Once the open beta starts, the Founder's Packs will no longer be purchasable or necessary, but you can still buy now and get in on the closed beta if you'd prefer. While that may seem pointless to do so, Phoenix Labs has promised that players who are participating in the closed beta will receive various in-game items and cosmetics as rewards depending on how far their progress is once it ends, so some may want to seek that out.
Dauntless plays in a similar style to Monster Hunter, where players can go solo or team up to hunt and take down monsters of all shapes and sizes, harvest their parts, sell those, and make/acquire better pieces of equipment. The game is open world, set on an island called the Shattered Isles, and players, known as Slayers, are hunting down monsters known as Behemoths. You can have a team of up to four players as you traverse through the Isles, taking in the striking colorful art style of Dauntless's world. Slayers are class-based, so having a varied mix of classes in your team lends to better combat. Due to feedback from both the closed beta and the upcoming open beta, Phoenix intends to add more features and streamline the already existing ones going forward, as the game will constantly be supported by updates and fan feedback to get it in the best place it can be. Players who are still playing the closed beta, or intend to here soon, should expect two full-server wipes in May. May 2nd will be the first wipe, in order for the game to receive a major update, while the second wipe will take place on May 22nd to prepare for the open beta that shortly follows it.
You'll be able to play Dauntless for yourself for free when the open beta begins on May 24th. Dauntless is only currently playable on PC, by downloading the game via its website after signing up. However, the developers have stated their intentions to bring the game to consoles later on after its full release, with no date or specific platforms being detailed at this time. Being a free-to-play title, Phoenix Labs has made a point to note that the game will not feature any pay-to-win features or loot boxes, instead only having an in-game shop with cosmetics and the like. The game is currently resting on a vague summer release window for the time being, and likely won't have a solid date until it's fully optimized and updated following the progress of the open beta.