---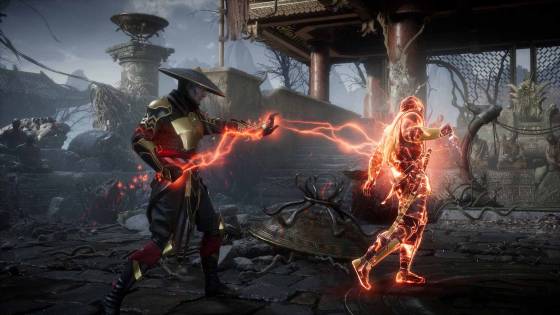 Mortal Kombat is one of the longest-running and most prolific fighting games in the history of gaming. And for a while now, rumors had begun to surface about the next possible entry for the franchise. Rumors, of course, are natural for this kind of thing, and so they were to be taken with a grain of salt. But then, at The Game Awards, everything changed. For in what might be the best fake-out in history, Mortal Kombat's co-create Ed Boon came on stage to deliver the nominees and award for "Best Sports/Racing Title". And everything was going smoothly...until a kunai shattered the "announcement video".
Fans were then blessed with a trailer for Mortal Kombat XI, officially confirming that the game was coming, and doing it in the most Mortal Kombat way possible. For if you recall the trailer to Mortal Kombat X, which also revealed at The Game Awards, the battle there was between Scorpion and Sub-Zero. But in this new trailer, it was Raiden versus Scorpion. And this battle was far more brutal than the previous reveal trailer. In fact, you might say that this could be the goriest reveal trailer in video game history.
While it's always unclear what reveal trailers are actually showing, this one for Mortal Kombat XI seems to indicate that weapons are going to play much more of a role in this game. Mainly because in the trailer, both Raiden and Scorpion go beyond their "basic movesets" and use knives, naginatas, and various swords in order to do damage to the other. The brutality was also much more than before, as they were stabbing and breaking all parts of the others bodies.
But, what might be the most interesting thing of all is that after Raiden got the victory against Scorpion, another Scorpion appeared. One that was reminiscent of both the live-action Mortal Kombat game and Ultimate Mortal Kombat III. This was compounded by the reveal of a brand new character watching a giant hourglass, leaving many to speculate that there is going to be a major time traveling element to the game. Not unlike what happened in Mortal Kombat IX.
In the slightly extended trailer for the game, NetherRealm Studios revealed two things. One, Shao Khan is going to be a pre-order bonus character. And two, the systems it will be on include the PS4, Xbox One, PC, and Nintendo Switch. This marks the first time in a very long while that a Mortal Kombat game has been on a Nintendo console. And it's sure to make players very happy to have such freedom in what system they choose to play the game on.
Finally, NetherRealm was happy to announce that the game will release on April 23rd, which means that it's honestly not that far away from release at all. Also, a special "community reveal event" is going to be coming on January 17th. No doubt revealing more about the game's story, as well as what characters might expect to play as when it's time to "FIGHT!"