---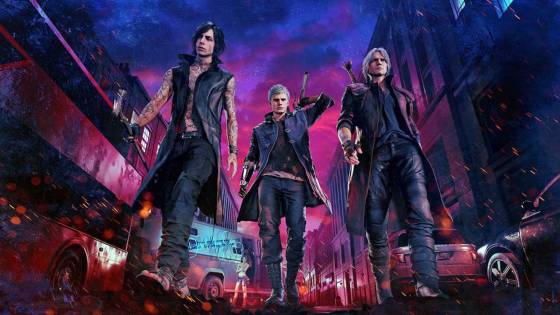 Movie/show adaptations to video games can often be hit or miss. Sometimes trying to convert what makes a game so great to the big screen can cause it to lose sight of just that. Something that laughed in the face of that trend was the recent Castlevania animated series on Netflix, which debuted in the middle of last year with its first season. It met with universally positive reviews, with many calling it a faithful project that really captures the spirit of Castlevania. Its second season began just recently, on October 26th, and a third season has already been confirmed. With that in mind, series executive producer Adi Shankar has his sights set on doing something new to join together with it: A Devil May Cry animated series. Shankar recently revealed this decision in an interview with IGN, soon after tweeting more info thanks to it going public. While the details remain scarce right now, it sounds like there's a lot to look forward to here.
While he couldn't go into the story side of things or reveal when in the DMC series this would take place, he did reveal that it will be joining Castlevania "in what we're now calling the bootleg multiverse." Something Shankar gained notoriety for were his short films produced around popular franchises like Power Rangers, The Punisher, and Judge Dredd. They were often violent spin-offs of those stories, looking into them in new ways. Shankar referred to these as his "bootleg universe", implying their stories are connected in some way. The same goes now for Castlevania and Devil May Cry. This might immediately get you thinking about a crossover type of situation, but again, he couldn't go into specifics just yet. With this being the case, though, it just provides more incentive for everyone to go watch Castlevania before Devil May Cry gets produced. As far as the shared connection between the two series goes, all Shankar could say was "You can read into that all you want."
Shankar's primary concern behind producing this series was Hollywood, as he didn't want them to acquire the rights to it and "f*** this one up too". Thanks to the acquisition, he has a great amount of freedom to shape the story in a way that will be more fitting to the game series it's based on. He thanked the fans for this happening, attributing it to Castlevania's wild success which allowed its next season to immediately get greenlit. "I wouldn't have a job if it wasn't for the fans." While the obvious assumption for Devil May Cry's streaming platform of choice would be Netflix, Shankar went on to tell Polygon that he's trying to decide a home between three different streaming platforms, all of whom have given him offers. Hopefully, we'll hear more on this soon, but considering the bootleg universe connection, Netflix would make a lot of sense.
We don't yet know when we'll see anything of this animated series, but it's good to know that it's in the works. Devil May Cry previously had a short-lived anime adaptation in the form of 2007's Devil May Cry: The Animated Series. It took place between the events of DMC 1 and 4 and ran for 12 episodes total. The game series itself is getting a brand new entry a whopping 11 years later: Devil May Cry 5. Developed by Capcom and directed by the series primary director Hideaki Itsuno, DMC 5 is set to release early next year on March 8th for Windows PC, Xbox One, and PlayStation 4. It's set following the stories of DMC 2 and 4, centering around an older and more experienced Nero who now runs his own 'Devil May Cry' demon-hunting business along with Dante and other returning characters. It's the best Devil May Cry has ever looked too, running on Capcom's new RE Engine, which got used to create Resident Evil 7 and all of its accompanying DLC. Keep your eyes and ears out for more on the new animated series, as I'm sure Shankar will have more info to share in the coming months.