---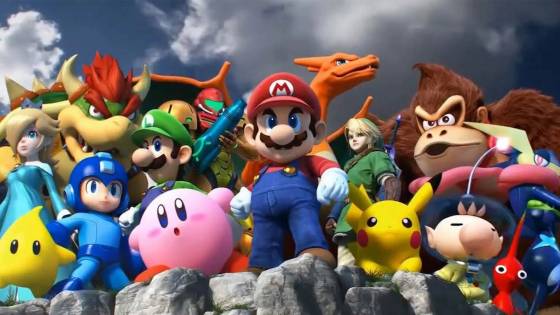 Easily one of the biggest things Nintendo did during the Wii U era was create the Amiibo figurines. This collectible mini-statues would be able to collect or transfer data for games like Super Smash Bros, as well as give new content to gamers for games like Mario Party. But, with the announcement of Super Smash Bros Ultimate, many were curious as to whether the new characters in the game would get Amiibo figurines. Since its official announcement at E3 2018, Nintendo has confirmed that these will happen, and this includes the newly announced characters from the recent Nintendo Direct.
Nintendo of Europe was the first to make this clear, saying on Twitter:
"Super #SmashBros Collection #amiibo of the five newly announced Super Smash Bros. Ultimate fighters – Simon Belmont, Richter Belmont, King K. Rool, Chrom and Dark Samus – will be released in the future!"
This tweet is very significant, and not for the reasons many would think. For this confirms that not only are the fully new characters, like King K. Rool and Simon Belmont, will be getting their Amiibo figurines, but the Echo characters are going to get them as well. An "Echo character" is a playable character that has moves like another roster character, but has a different look, voice, animations. etc. In the E3 2018 video, Lucina and Daisy were revealed to be Echo characters alongside Young and Toon Link. And in the new Nintendo Direct, Super Smash Bros Ultimate director Masahiro Sakurai noted that Chrom, Dark Samus, and Richter Belmont fall into that same category.
So this would also go to reason that should more Echo characters be unveiled in the months leading up to Super Smash Bros Ultimate's release, they'll be getting Amiibo's as well.
All of these new Amiibo's will be added to the figures that have already been promised by Nintendo to fulfill the "Everyone Is Here!" promise. Meaning, since Smash Bros Ultimate is bringing back all past characters, including ones that weren't in the Wii U or 3DS versions where the Amiibo were introduced, those characters that had not gotten Amiibo in the past would be getting them now. Including characters like Wolf, Ice Climbers, Pokemon Trainer, Pichu, Solid Snake, and a few others.
With the inclusion of Simon Belmont, the 3rd party Amiibo characters roster is now growing. With Sonic, Solid Snake, Pac-Man, Mega Man, Cloud Strife, Bayonetta and Ryu all having or getting, their own Amiibo. And of course, for fans of characters like Dark Samus and Chrom, this is a treat for them as well.
The true question going forward is how many more main or Echo characters will Nintendo put into Super Smash Bros Ultimate? Sakurai said at E3 that there won't be too many "new" characters, but does that pertain to the Echoes? With the inclusion of King K. Rool from Donkey Kong Country and 64 and Simon Belmont from Castlevania, the new characters now total 4 alongside Ridley from Metroid and Inkling from Splatoon. With four months until Smash Bros Ultimate's release, many more announcements, including ones about Amiibo, are sure to come.