---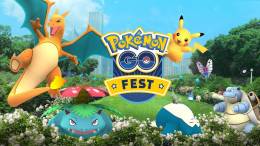 Pokemon GO is by and large one of the most successful video games ever made, which is saying something given that Pokemon as a whole is a massively popular franchise. The mobile title, developed by Niantic with permission from Nintendo and Game Freak, sent everyone into a frenzy over trying to literally catch them all. However, just because it was successful doesn't mean that there weren't bumps along the way, and one of the biggest bumps was the disaster that was the Pokemon GO Fest in Chicago, Illinois.
For those who don't recall, this was meant to be a celebration of the first year of Pokemon GO. It was going to have special Pokemon to catch and be a great way to connect with the Pokemon GO community. To the latter point, it was a success, as the event sold out, and tens of thousands went to the event, including people from all over the world. But, the problem was that Niantic didn't prepare the venue itself for the overload of people trying to log onto the game itself. For there were internet connection issues throughout the event. Plus, with so many people at the event, it was very crowded, causing some uncomfortable situations for those who attended.
As such, any who attended the event got their ticket purchase refunded, which was a $100. They were also given some in-game Poke Coins as an apology. However, that wasn't enough for the people who went. As we noted above, people traveled from all over the world to come to the event, only for it to be a major disaster. As such, a large group of attendees banned together to sue Niantic for costs of travel and hotel that were made for the event.
According to TechCrunch, the lawsuit has been settled, and the thousands who made the lawsuit seem to have come up trumps. For the number being floated around for the settlement is around $1.6 million dollars. That's a pretty large sum for an action like this.
People close to the case state that the money for the settlement will arrive in May, with the attendees getting an email to let them know when they can file their claim. What that means is that though the payment is coming, that doesn't mean that everyone who was a part of the lawsuit will get exactly what they want.
The court ruled that people who are claiming expenses must show that they indeed made them. Including showing receipts for things like their airfare, hotel, and other expenses they would have made during that weekend. So we'll have to see just what the average payout is for those who claim foul play.
As ironic as it sounds, this won't be too big of a blow to Pokemon GO, as its revenue continues to come through each month. Recent reports put the game averaging 60 million players worldwide each month, and with the Spring months coming, and new updates on the horizon, it's very likely that the number will grow. To that end, the profits for each month will grow.
Still, this lawsuit proves that if you feel wronged by a gaming event, you need to speak out about it. You never know what might happen.