---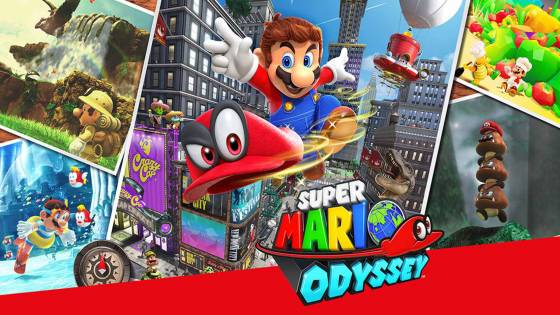 Here's a mind-boggling factoid: Super Mario Odyssey turned one year old as of October 27th a couple of days ago. Crazy, right? It doesn't feel like it's been a year, and yet, here we are. The Nintendo Switch has come a long way since then, but Super Mario Odyssey remains one of its biggest and most well-known exclusive titles. Nintendo, naturally, decided to celebrate the occasion in a couple of cool ways for fans. They kicked things off on their official Twitter accounts, posting pretty new artwork of all the characters celebrating, with a video to match it. Later on, they revealed that both Super Mario Odyssey and Animal Crossing: Pocket Camp will be getting some in-game entertainment for the occasion. Even if you've already finished Odyssey 100 percent, this might provide good incentive to jump back in.
The event for Odyssey is a sort of scavenger hunt festival. What will you be hunting for, exactly? Pixel versions of Luigi and Captain Toad, of course! The event is being held at New Donk City, specifically the section inspired by Donkey Kong (everyone who played probably remembers this area). Head there and start ground pounding all around the festival; this will turn up the pixel characters you need to find, and each one nets you 200 coins. It's a fantastic way to go coin farming if you're in need of some spending money on all of Mario's in-game costumes, which Nintendo has been putting out continuously even after the game's release. There are 39-pixel Luigis and Captain Toads in all, so get hunting! Animal Crossing: Pocket Camp didn't want to be left out of the fun, though. All players who sign into the mobile game between October 26th to November 26th will receive a free Cappy hat for their character to wear. Once you've got it, it's yours to keep, and it'll be sent to your character's mailbox!
Super Mario Odyssey's October 27th release last year was a big one, stuffed into a year already packed with huge game releases. It topped many reviews and game-of-the-year lists and serves as Nintendo's newest mainline Mario game specifically for Nintendo Switch. While that means the core 3D Mario series will be taking a bit of a breather, the game still gets content regularly in the form of new costumes. There haven't been any big DLC additions to it just yet, but the closest thing would be the inclusion of the mini-game Luigi's Balloon World. That debuted early on this year and serves as a hide-and-seek game to find balloons around the kingdoms hidden by other players. I'm sure it's not the last we'll hear from Odyssey for post-release content either.
The next big time we see Mario will be with the release of Super Smash Bros. Ultimate on December 7th, which has Mario front-and-center by tradition. Early next year, Mario fans will also get to enjoy Super Mario Bros U in the form of Super Mario Bros U Deluxe, releasing January 11th. It brings the hit Wii U title to Switch and has some new character inclusions to boot. If you're feeling the Mario spirit, go on and celebrate by playing some Super Mario Odyssey. The game is available exclusively for Nintendo Switch, and really shouldn't be missed out on if you own the console; it's a must-play. Nintendo's Twitter has all the festive shenanigans to read up on if you'd like, or you can enjoy their video celebration below with all the other characters. Happy birthday Super Mario Odyssey, and thanks for all the hours of fun.