---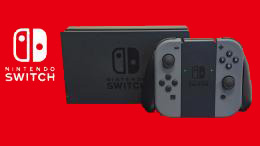 When a new console comes out, the way it'll become successful is via software sales. After all, if there are no games to play on a system, why would you buy the system? After the failure of the Wii U, Nintendo buckled down and put everything they had into their next system, the Nintendo Switch. And to ensure that it had all the games people could want in its first year, they released several major 1st and 3rd party titles. Many of which became million sellers, and more. Now, after a financial briefing meeting, Nintendo has updated the sales numbers for the system and its software.
First up, the Nintendo Switch itself, as of March 31st, has sold almost 18 million units. And that was in less than 13 months. As for software, the system has sold around 69 million units. Factoring in what April has likely done for the system and its games, they're likely over both now, which just goes to prove how dominant the Switch has been.
With the new sales numbers of the Switch come also individual sales numbers of some of its best-selling games. Topping the charts is Super Mario Odyssey, which has broken the 10 million sales mark in about five months. This also means that 5/9 of all Switch owners have Super Mario Odyssey, which is an incredible attach rate. Odyssey was one of the big games to come to the Switch at the end of the year and wowed so many people that it was nominated for Game of the Year by virtually everyone.
Second place went to Mario Kart 8 Deluxe, which is just over 9 million units sold. This is amazing as the game is a port of the Wii U title, just with some extra DLC. An interesting note, the Deluxe version of the game has now outsold the original version, and in less than a year.
Third place is Legend of Zelda: Breath of the Wild, the game that astonished the world with its depth and beauty and took home countless Game of the Year awards. It's sold around 8.5 million units on Switch and has also sold around 1.5 million on Wii U, which means that combined the game has sold around 10 million, which is a staggering amount.
Other games on the 1st party million seller list include Splatoon 2, 1-2 Switch, ARMS, Xenoblade Chronicles 2, and in a surprise, Kirby Star Allies. The reason that this is a surprise is that the game released on March 16th, and the sales charts only document until March 31st, 2018. Which means that Kirby sold over a million units in about two weeks. That's very impressive, as Kirby hasn't always been the best-seller among the Nintendo franchises, but, given that there hadn't been a 1st party release since Xenoblade Chronicles 2, that could've had an impact on things.
No matter which game on Switch is your personal favorite, all of these numbers and stats prove just how dominant the Nintendo Switch has been in these last 13 months, and it doesn't look to be stopping anytime soon.