---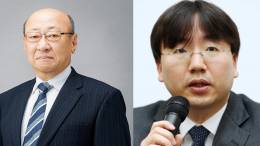 As many in the gaming industry and community probably recall, Nintendo's current president, Tatsumi Kimishima, stepped up to the plate after the unfortunate passing of then-president Satoru Iwata in mid-2015. It was a difficult time for Nintendo and Nintendo fans alike. Satoru Iwata had been one of the most well known and loved faces of the company during many of Nintendo's most important years, and his passing timed up with the in-between era of the Wii U failing to meet sales expectations and the new console (then codenamed the NX) still on the horizon and unknown. Basically, it was a time of great uncertainty for Nintendo. Despite that, Kimishima took charge, the Switch got unveiled a year and a half later, and things have been looking up for Nintendo since.
Today, Nintendo released their latest financial earnings report, which often serves doubly as a way for fans to see what's going on within the company and how things are going sales-wise with their various games. The report announced officially that Tatsumi Kimishima will be stepping down from his position as president on June 28th. Surprisingly enough, the replacement has already been announced. Nintendo's next president will be Shuntaro Furukawa. You may know of him for various reasons. Not only is he currently running Nintendo's global marketing department, he's also the outside director for the Pokémon Company and Nintendo's managing executive officer. He's been with the company since 1994, which was equally an important time for Nintendo.
The most noticeable thing about this new pick is the age difference. Kimishima has been of the opinion that, with younger management, Nintendo as a whole could better understand and relate to its customers. Due to his age, it's a rather fitting time for him to go into retirement and pass the torch. Satoru Iwata was also one of the youngest presidents when he took the position in 2002 from Yamauchi, who had been president since 1949. Furukawa will be 46 by the time he becomes president later this year and considering his history with Nintendo, it'll be interesting to see where everything goes from here.
With that said, Kimishima has left behind quite a lot in his wake. Despite his time as Nintendo's president being the shortest of all of them, only two and a half years, he oversaw some of Nintendo's biggest successes and changes. As the financial earnings report shows, the Nintendo Switch and its games have been selling extremely well. Super Mario Odyssey, most notably, has sold 10.4 million copies since its launch in October. The console itself, meanwhile, has sold a whopping 17.79 million units, which exceeded Nintendo's predictions by a significant margin. With all the popularity and number of games coming to Switch this year, it shows no signs of slowing down any time soon. Kimishima will always be fondly remembered as the president during Nintendo's transition from the Wii U era to the Switch. You can view all of the finer details on Nintendo's official report!