---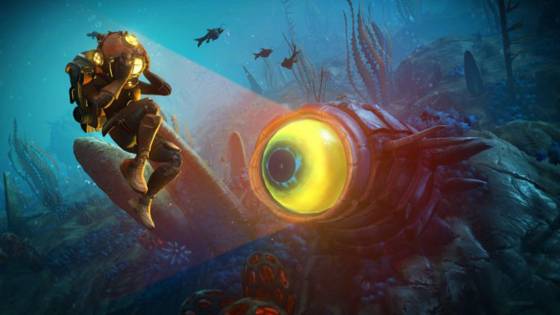 No Man's Sky is a very complicated game to talk about in terms of how well it did compared to how well it was received. For when it was announced, it was seen as the "next big thing" for gaming, especially since it was made by a very small team at a company called Hello Games. For the next while, every time No Man's Sky would be shown, people were in awe of it, for the promise of exploring a full-on universe full of life and things to do was entrancing in numerous ways. But it came at a cost, a cost that it's still paying right now.
You see, when it did release, it was not as advertised. There was no multiplayer component, and much of the "content" that was in the game was very repetitive and boring. And while there was a universe to explore, it wasn't as compelling as they made it out to be. So despite selling millions in the first few days, the reviews and scores for the game weren't that high. And the returns of the game were just as bad.
Still, Hello Games never gave up on the title, and they kept working on it, and now, they're showing off another step in their progression to fix the game by releasing an update that gives new content via "The Abyss".
"The Abyss" is an underwater focused content update, showcasing a lot of things that you can do underwater in the universe.
" The Abyss introduces aquatic environments with over five times more variety, varied creature behaviors, improved underwater visuals and much more."
This is actually rather poetic, for when the game was being teased, they flaunted the ability to go high into the sky and deep underwater in order to find things to do. Now, they're making good on that promise in a big way.
Hello, Games has made sure that not only do the underwater areas look good, but you'll see more variety in the creatures and plants that are going to be there. Plus, you'll see them a lot more often. So it won't look as barren as it did in previous versions of the game.
Next, you'll find yourself with more story content via the story "Dreams of the Deep". You'll have the ability to explore ruins tied to a lost soul or find out about a crew of people who had their ship caught underneath the waves. All of this just adds to an experience that the game desperately needed to expand.
But, the ruins won't just be tied to the story mode, instead, it'll be something that you can find on numerous planets all over the universe. And that's not all, there will be sunken ships of all kinds as well, and some of them may have things for you to collect.
Still not enough? Well, "The Abyss" will also be bringing you a new vehicle in the form of a submarine called the Nautilon. So you'll be able to search the seas in style. More information can be found on PlayStations official blog.