---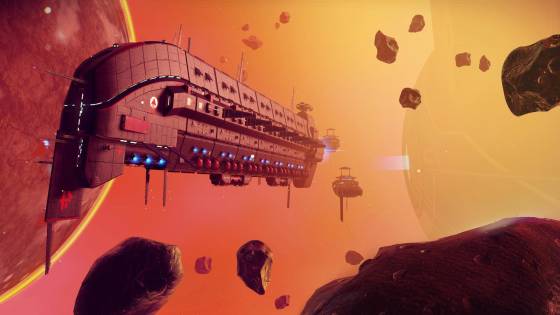 No Man's Sky has been on an uphill flight since the launching of its big Next update back in July of this year. That update, which also commemorated the release of the Xbox One version, saw a huge overhaul for No Man's Sky. The team at Hello Games has been polishing the game weekly with updates since, throwing in special events alongside these for players to look forward to every week. Next week, though, we can expect something a little bigger... and a little spookier. The other day, Hello Games' director Sean Murray made a post on No Man's Sky's official website. The post was meant to both thank players for the thriving community they've built together following Next, and to announce a brand new named update on the way... The Abyss. This makes Abyss their first named update since Next.
What's so spooky about The Abyss? Aside from the name, that is. On this point, Murray stayed intentionally vague since the update is only a week away. "While most of the team have been busy on weekly updates, a handful have been working on something else, our first titled update since Next," Murray stated. "A new free update is releasing next week for all players. We've called it The Abyss, because it focuses on some of the eerier elements of No Man's Sky, in keeping with the theme of this season." Murray concluded that this is "another small step on a longer journey for us." If you play No Man's Sky right now, those aforementioned eerier elements can be found throughout the game in small doses. Things like humming eggs that release biological horrors, mysterious artifacts from unknown civilizations, or even just the existential fear of traveling through space. While The Abyss may play on these elements some, it will likely include new content to be found, especially with its significance as a named update.
The Next update was considered by many to be a return to form for No Man's Sky following its rocky and controversial 2016 launch. The game and Hello Games themselves ended up being the subject of negative attention due to the final product missing features that were discussed or shown off in earlier builds at game showcases. Despite this, Hello Games has been working on updating the game nonstop since the controversy. Comparing it nowadays to how it was two years ago is quite the contrast, especially following Next. That update saw a visual overhaul for No Man's Sky, revamping everything to look newer, better, and play more smoothly. Planet generation has been better randomized so that each one is more unique, and the third person mode is considered by many to be the true way to play. Multiplayer has been included to allow friends to explore the galaxy together. The game even received a community-focused Galactic Atlas, which allows players to post their unique or weird discoveries online for other players to take note of and visit. Really, there's been no better time than now to play No Man's Sky.
And with that in mind, you can get the game on a variety of platforms if you're interested! No Man's Sky is available for Windows PC, PlayStation 4, and (as of July) Xbox One! Murray didn't specify a date for The Abyss update; only that we can expect it sometime next week, likely before Halloween. It'll be completely free for all players, so make sure to tune in when it drops and see what all of the spookiness is about. For the full update from Hello Games themselves, visit the No Man's Sky website to see more on that. A more detailed post will probably be made overviewing The Abyss' features once the update drops. Whatever creepy things people find out there in the dark reaches of No Man's Sky's universe, you can bet they'll probably be posted on the Atlas. Give that a look too if you're interested in what players have been up to.