---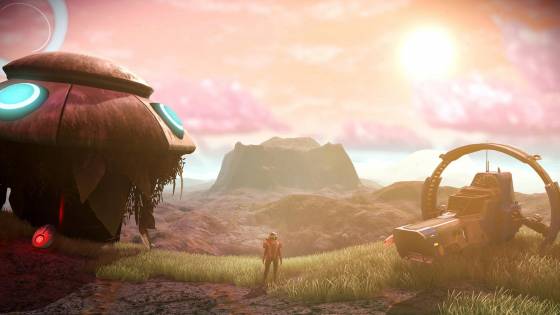 Oh, hello, Hello Games! It seems Sean Murray and the team are back at it again with another impressive and expansive No Man's Sky update. News on this update leaked early, bizarrely, but the developers have since gone on to formally announce it themselves, alongside a mesmerizing new trailer. The update is going by the name of 'Visions', and according to Murray, they've dubbed it this because the update "reimagines our universe, introducing new environmental biomes, new planet types, more colorful worlds, new fauna and flora, archaeology, salvaging, and much more…" A lot of the details were provided in a posting to No Man's Sky's official website, and while the update isn't a massive one like NEXT, it's got a good chunk of changes to liven up No Man's Sky's ever-changing universe and make it that much more fun to explore.
No Man's Sky's most recent big update, The Abyss, ended up being exactly what it sounded like on the tin: Changes to the oceans. After all, even if one can explore the depths of outer space, exploring the oceans are a different matter. The entirety of that update focused on adding new creatures, goodies, and gameplay elements to all oceans and lakes found in the game's planets. If you were a little paranoid swimming in them before, you're likely to be a lot more so now. Visions, meanwhile, is going in the exact opposite direction: to the land. The biggest and most obvious changes will come in the form of planet aesthetics, with the randomization becoming even more varied. New colors will bloom in the skies, clouds, and oceans that weren't around previously, and the more rocky, dead planets will "burst into life", filled with all sorts of surprises and things to find. To back up these beautiful new visuals, mysterious artifacts and alien fossils can be found throughout the planets. The former can even be used as trophies to display in your bases.
With new looks and more beautiful planets come new fauna and flora as well. Visions is setting out to add quite a few odd new creatures to the No Man's Sky universe, including ones that disguise themselves as everyday harvest-able minerals. Some of the plants are going a similar route, turning into dangerous, carnivorous traps that might snare you if you weren't watching where you were going. For those who are feeling daring, satellite remains can be found by digging and scrapping them. Doing so draws in a new form of sentinel drones: corrupted ones. And for those who are feeling even braver still, precious gemstones have been added that light up in extremely hazardous weather, forcing you to utilize your best upgrades and shielding to retrieve them for the riches. The last (but not least) big change is the addition of global community missions. Rather than take these on solo, you'll be sharing your progress in these missions with other players from around the world, ultimately working towards an end goal that every player contributes to. Taking part in these can net you new ways to interact with friends, including new emotes, parts, and even fireworks.
It's a lot of fun stuff to look forward to, and the full patch notes list on the website gets down to the finer details of what's been changed (spoiler alert: there's a lot). To dig into it all, make sure to head over there. The update is set to launch on Thanksgiving Day, which is tomorrow as of this writing, so it will likely be available by the time you read this! And what a day to release, too, when everyone is giving thanks and stuffing their faces. If you're curious about all the colorful new looks Visions will bring (and, for the first time, rainbows), you can check out the trailer below here. It goes into some of the stuff described above too, providing a nice overview. While this is just the latest step in the journey for No Man's Sky and Hello Games, it certainly won't be the last. Murray implied as much in some of his posts about Visions, and the team is likely hard at work on what's next for the space exploration game. Between this, The Abyss, and NEXT, No Man's Sky has truly flown out to the stars. The game is available on Windows PC, PlayStation 4, and Xbox One. Xbox One users got the game two years after release, along with all of its updates, so the NMS community has grown proportionally in recent months.