---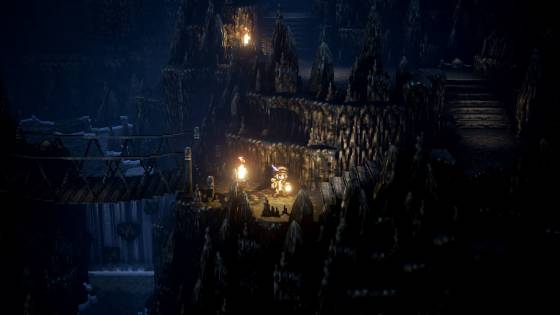 Right now, in stores around the world, there is a shortage of a certain video game. This isn't unheard of, as games of high-profile natures are sure to make big dents in the global market. Halo, Mario, Legend of Zelda, Uncharted, and more do such things. But the title that's doing this right now is Octopath Traveler, the newest RPG from Square Enix via their newest team, Acquire. The game was revealed last year and then shown off more via new demos and trailers. All of which leads to its release on the 13th and the response has been so huge that Square Enix had to apologize for shortages.
While it's very true that Square Enix has had massive hits in their past, Octopath Traveler is a different story, both literally and figuratively. It's very unlike many of their modern hits, including Final Fantasy XV. So what is it that sets the game apart in such a way that is causing this big burst in sales? Well, many members of the dev team made a post on launch day for Octopath Traveler and noted some things that they felt truly made it special.
The director for the game, Keisuke Miyauchi made three distinct points about why he feels the game is special compared to other JRPGs. First up was the "2D-HD" look: "We took inspiration from the pixel art of the RPGs we ourselves used to play, updating them with modern technology to create rich and varied landscapes that we believe players will find to be both nostalgic and freshly beautiful."
Indeed, the game does feel like a mix of old and new technologies. The pixel art is old-school, yet it clearly shows the expressions and mannerisms of the eight main characters. As for the world, while it is pixel art in nature, it's stacked in such a way to make it feel like an in-depth world. It's something that you honestly have to experience for yourself in order to appreciate, and it's clear that gamers are doing just that.
Second, for him was interactivity, "with each character able to interact with the residents of Orsterra through their Path Actions."
Each character has a different ability that they can use to influence characters in the world. Whether they need to be scared off, guided to a certain place, or have their items bought or stolen off them. These actions are unique to the characters, thus making sure players know exactly what characters to have with them at all times.
Finally, Miyauchi wanted to promote the idea of freedom, "We encourage you to spin a tale of adventure all your own."
That might be the biggest selling point of Octopath Traveler, being able to start your journey as one of eight different characters, then follow whatever course you want in order to end up where you want. You can choose to focus on a group of four, or try and do all eight stories simultaneously. You can even ignore the stories and just travel the world, finding hidden things and doing sidequests.
Whatever the true reason, the game is selling incredibly well in its first week, and it'll be fascinating to hear what exactly is the official sales numbers when they release.