---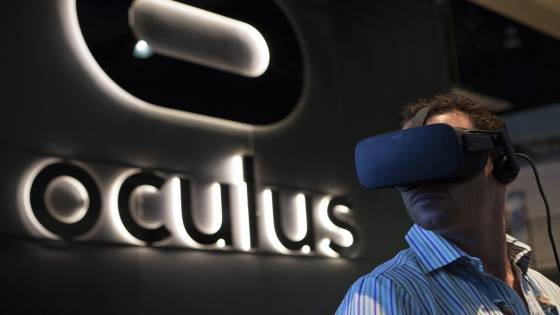 It appears that Oculus has lost another of its founding members just the other day, as former Oculus CEO and company co-founder Brendan Iribe has departed from Facebook. This echoes Palmer Luckey's departure back in 2017, and it has fans worried about what's going to happen with the Oculus Rift. The news came by way of a post on Facebook from Iribe himself, in which he expressed positive thanks to everyone involved with the Rift and its development. "I never could have imagined how much we would accomplish and how far we would come. And now, after six incredible years, I am moving on," the post reads. "Now is when we get to pioneer the foundation of the next great computing platform and medium - this is our time to be pushing the state-of-the-art onward and upward. Every part of VR and AR needs to improve, especially the hardware and core technology, and Oculus has the best team in the world to do that."
Oculus was founded back in 2012 by Iribe and a few others but went on to be purchased by social media website Facebook for $2 billion in 2014. This purchase changed some things in the company, leading to the creation of a PC VR-focused division within it. In 2016, Iribe stepped down from his position of CEO and focused his work in this PC VR group, with the development of the Oculus Rift 2 seemingly ongoing. That last point is what has many worried: What's going to happen to the Oculus Rift 2 due to all of this? While the entirety of Iribe's departure message is a positive one, reports have come in from TechCrunch that suggest there are deeper reasons behind this news. Anonymous insider sources have claimed that Iribe was leading up the development of the Rift 2, but Facebook began shaking things up within the company's virtual reality branch last week. Whatever Facebook's decisions were, it led to the cancellation of the Rift 2, which then led to Iribe's decision.
These same reports are also backed up by accounts of a growing change of views on the future of VR between Iribe and Facebook, with the former wanting it to be the cutting-edge gaming/computer hardware we know it to be, and the latter wanting to make it more commercial and readily available at the sacrifice of visual quality. The report concluded that Iribe wasn't interested in a "race to the bottom". While it's not known if these reports are the truth, Facebook has since made a statement to TechCrunch about everyone's concerns for the future of Rift: "While we can't comment on our product roadmap specifics, we do have future plans, and can confirm that we are planning for a future version of Rift." As many have noted, this response is vague and doesn't outright deny that the Rift 2 has been canceled. Without a comment on specifics, it's hard telling what path the Oculus Rift may take going forward. We can hope that it will be the very same Oculus Rift 2 that Iribe was working on, but that remains to be seen.
Facebook and Oculus' recent ventures include the Oculus Go and upcoming Oculus Quest, which discard the need for the secondary PC hardware the Rift requires. Because of this, visual fidelity is reduced, despite the devices being cheaper as a result. Many have pointed to these as evidence of the path Facebook intends to head down, but it's hard to say at this point what will happen. You can wrap your head around the full story by heading over to both TechCrunch and Iribe's Facebook post, both of which have interesting tidbits to read. If you're interested in purchasing an Oculus Rift for yourself, you can find them for anywhere between $350 to $450, depending on where you're buying it from and what it comes with. Just keep in mind that you'll need a good enough PC to run it. With Oculus being one of the big three when it comes to VR (the others being HTC's Vive and Sony's PS VR), time will tell what we can expect from the technology in the next generation of gaming.